Improving English Speaking Ability Through E-Learning
Keywords:
E-learning, speaking ability, traditional learning, EFL
Abstract
E-learning is an alternative approach to education, which mentions the utilization of information and transmission technologies to allow the way to online learning. Many previous studies have compared E-learning with face-to-face learning to determine the benefits and drawbacks of each method and see if they could substitute the other. However, few studies examined whether e-learning affects English as Foreign Language (EFL) in speaking skill; some were successful in investigating, but some were not. In order to fill this gap, this study demonstrates the effectiveness of e-learning in improving English speaking ability. The researchers used a random sampling method with twenty questionnaires and five questions to interview to achieve the goal. Participants were fifty junior students of the Faculty of Foreign Language who had two years of experience of studying speaking skills at Van Lang University (VLU) in Ho Chi Minh City. The procedure of collecting results lasted two weeks, and data collection was analyzed based on the results presented in the chart. These findings shed light on the difficult factor students encountered when speaking English and highlight development-speaking ability progression via E-learning.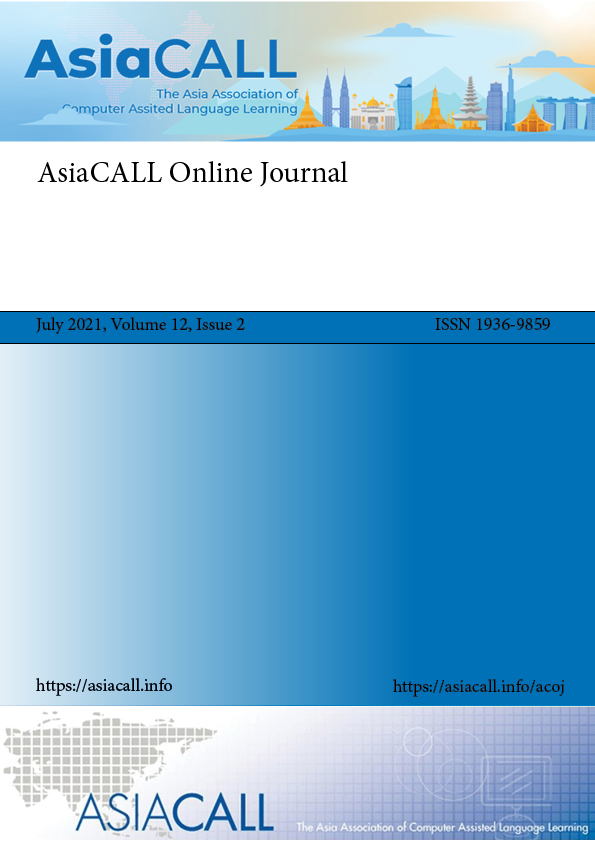 Downloads
How to Cite
Su, A. A. T., Cao, T. X. T., Le, D. L. V., Nguyen, L. N. T., & Nguyen, T. L. A. (2021). Improving English Speaking Ability Through E-Learning. AsiaCALL Online Journal, 12(2), 58-71. Retrieved from https://asiacall.info/acoj/index.php/journal/article/view/29
License
Copyright
The copyright of all articles published in the AsiaCALL Online Journal (acoj) remains with the Authors, i.e. Authors retain full ownership of their article. Permitted third-party reuse of the open access articles is defined by the applicable Creative Commons (CC) end-user license which is accepted by the Authors upon submission of their paper. All articles in the acoj are published under the CC BY-NC 4.0 license, meaning that end users can freely share an article (i.e. copy and redistribute the material in any medium or format) and adapt it (i.e. remix, transform and build upon the material) on the condition that proper attribution is given (i.e. appropriate credit, a link to the applicable license and an indication if any changes were made; all in such a way that does not suggest that the licensor endorses the user or the use) and the material is only used for non-commercial purposes. 
Authors retain copyright and grant the journal the right of first publication with the work simultaneously licensed under a Creative Commons Attribution 4.0 International License that allows others to share the work with an acknowledgment of the work's authorship and initial publication in this journal.
Authors are able to enter into separate, additional contractual arrangements for the non-exclusive distribution of the journal's published version of the work (e.g., post it to an institutional repository, in a journal or publish it in a book), with an acknowledgment of its initial publication in this journal.
Authors are permitted and encouraged to post their work online (e.g., in institutional repositories or on their website) prior to and during the submission process.