The Integration of 21st Century Skill and Virtual Learning with COVID-19
Keywords:
21st-century skills, Flipped Learning, PeerEval, ZOOM, Virtual Language Exchange
Abstract
Trilling and Fadel emphasized the importance of 21st-century skills early in 2000. 3Rs and 7Cs were particularly important, but now 8Cs should be added to 'coexistence with AI.' 8Cs should be emphasized in our pedagogy whatever subject we teach for 21st-century education. An empirical investigation was carried out from May 2020 to December 2020, targeting undergraduates in Tokyo. From the first semester of 2020, all courses were taught online with a ZOOM. About 30% of students enrolled in all classes were satisfied with virtual online learning; however, 30% of students were unsatisfied with virtual online learning. The second semester we carried out the experiment to promote the virtual exchange program with the National University of Singapore (NUS) for eight weeks. How the students learned under COVID-19 will be explained more in detail.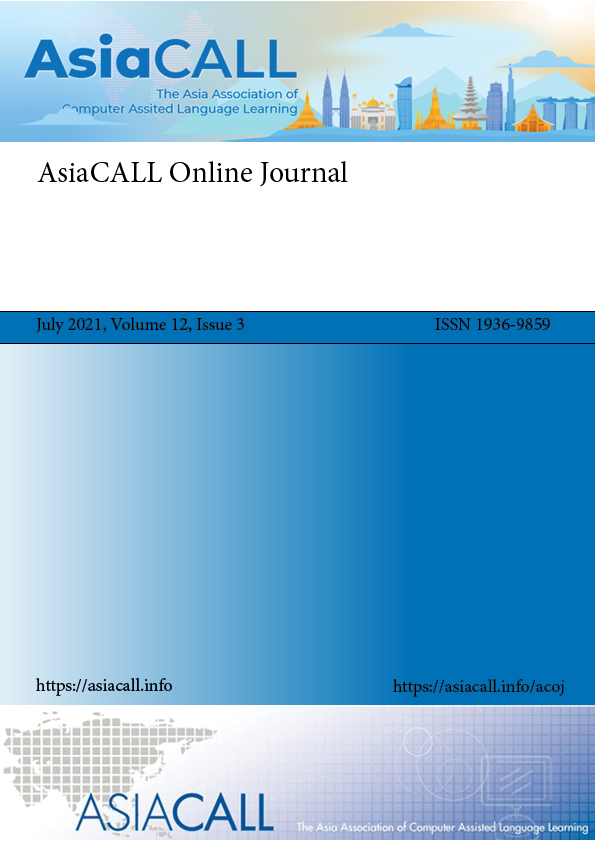 Downloads
How to Cite
Hiroyuki, O. (2021). The Integration of 21st Century Skill and Virtual Learning with COVID-19. AsiaCALL Online Journal, 12(3), 22-27. Retrieved from https://asiacall.info/acoj/index.php/journal/article/view/30
License
Copyright
The copyright of all articles published in the AsiaCALL Online Journal (acoj) remains with the Authors, i.e. Authors retain full ownership of their article. Permitted third-party reuse of the open access articles is defined by the applicable Creative Commons (CC) end-user license which is accepted by the Authors upon submission of their paper. All articles in the acoj are published under the CC BY-NC 4.0 license, meaning that end users can freely share an article (i.e. copy and redistribute the material in any medium or format) and adapt it (i.e. remix, transform and build upon the material) on the condition that proper attribution is given (i.e. appropriate credit, a link to the applicable license and an indication if any changes were made; all in such a way that does not suggest that the licensor endorses the user or the use) and the material is only used for non-commercial purposes. 
Authors retain copyright and grant the journal the right of first publication with the work simultaneously licensed under a Creative Commons Attribution 4.0 International License that allows others to share the work with an acknowledgment of the work's authorship and initial publication in this journal.
Authors are able to enter into separate, additional contractual arrangements for the non-exclusive distribution of the journal's published version of the work (e.g., post it to an institutional repository, in a journal or publish it in a book), with an acknowledgment of its initial publication in this journal.
Authors are permitted and encouraged to post their work online (e.g., in institutional repositories or on their website) prior to and during the submission process.