The Need of Applying English Learning Apps to Help Van Lang University Students Improve Their Spoken English Performance
Keywords:
Spoken performance, software, learning apps, speaking ability, English learning
Abstract
Nowadays, the cutting edge of technology in AI has made many language learning apps available to assist learners. English, the current lingua franca, has focused on many language learning app developments. Numerous studies have examined the benefits and limitations of some English learning apps. Evidence from the studies shows that user-friendly displays and a wide variety of topics from the apps have helped learners gain competencies in English overall. However, not many studies examine these apps' effectiveness in developing English-speaking competence. With the attempt to shed more light on this gap, the researchers focus on analyzing the use of some English learning apps to improve students' speaking skills within Van Lang University's scope. To collect data for the research, 20 open-ended questionnaires and 10 semi-structured interview questions were distributed with the random sampling method to 400 students from Van Lang University in 04 majors, which require good English-speaking skills. The result shows that Elsa Speak, Duolingo, and BBC Learning English are the most famous apps for learning English speaking skills with high effectiveness levels.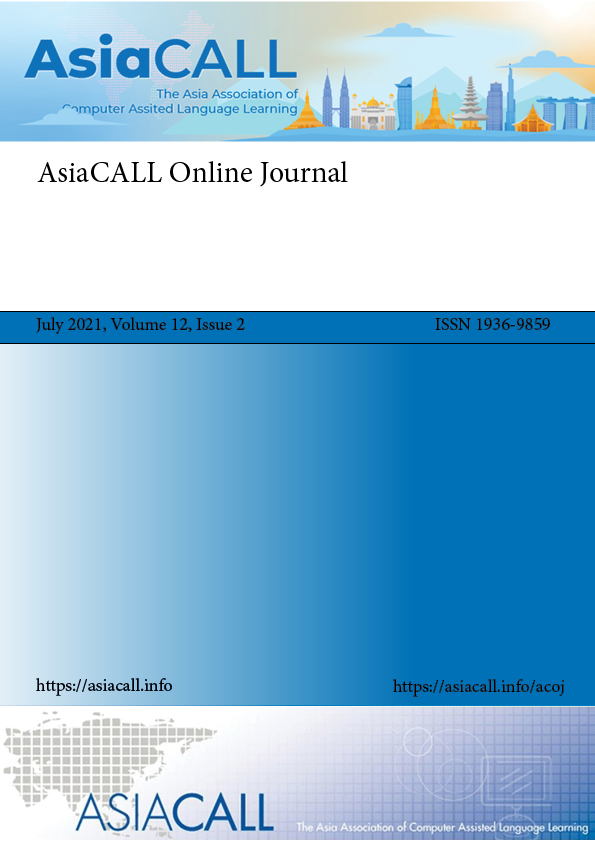 Downloads
How to Cite
Luu, L. P. T., Nguyen, T. N. Q., Vo, N. T. T., & Nguyen, M. T. H. (2021). The Need of Applying English Learning Apps to Help Van Lang University Students Improve Their Spoken English Performance. AsiaCALL Online Journal, 12(2), 72-86. Retrieved from https://asiacall.info/acoj/index.php/journal/article/view/33
License
Copyright
The copyright of all articles published in the AsiaCALL Online Journal (acoj) remains with the Authors, i.e. Authors retain full ownership of their article. Permitted third-party reuse of the open access articles is defined by the applicable Creative Commons (CC) end-user license which is accepted by the Authors upon submission of their paper. All articles in the acoj are published under the CC BY-NC 4.0 license, meaning that end users can freely share an article (i.e. copy and redistribute the material in any medium or format) and adapt it (i.e. remix, transform and build upon the material) on the condition that proper attribution is given (i.e. appropriate credit, a link to the applicable license and an indication if any changes were made; all in such a way that does not suggest that the licensor endorses the user or the use) and the material is only used for non-commercial purposes. 
Authors retain copyright and grant the journal the right of first publication with the work simultaneously licensed under a Creative Commons Attribution 4.0 International License that allows others to share the work with an acknowledgment of the work's authorship and initial publication in this journal.
Authors are able to enter into separate, additional contractual arrangements for the non-exclusive distribution of the journal's published version of the work (e.g., post it to an institutional repository, in a journal or publish it in a book), with an acknowledgment of its initial publication in this journal.
Authors are permitted and encouraged to post their work online (e.g., in institutional repositories or on their website) prior to and during the submission process.