The Difference Effects of Paper Dictionaries vs. Online Dictionaries
Keywords:
paper, online, dictionaries, students, University, differences, benefit, advantages, effect
Abstract
The dictionary helps to learn foreign languages more easily and, with the invention of the online dictionary, users are now better supported and more effectively. Therefore, many studies have been conducted to show the influence of paper dictionaries and online dictionaries on users and problems in using the two types of dictionaries. The present study was based on 300 junior students from Van Lang University in Ho Chi Minh City. The results illustrated that students had a strong preference for online dictionaries. The survey also found that most students use the dictionary regularly as an effective tool to improve their language levels when it comes to boosting the vocabulary bank. Finally, most students at Van Lang University tended to choose online dictionaries for learning new vocabularies, although some of them still do not deny the value of paper dictionaries.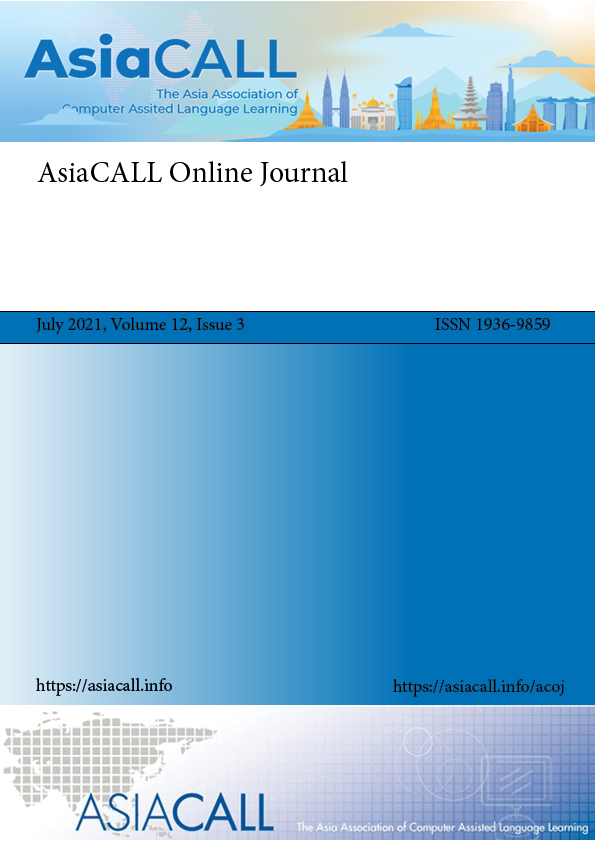 Downloads
How to Cite
Trinh, T. L. A., Tran, T. K. N., Vo, T. B. N., & Huynh, T. T. S. (2021). The Difference Effects of Paper Dictionaries vs. Online Dictionaries. AsiaCALL Online Journal, 12(3), 28-38. Retrieved from https://asiacall.info/acoj/index.php/journal/article/view/34
License
Copyright
The copyright of all articles published in the AsiaCALL Online Journal (acoj) remains with the Authors, i.e. Authors retain full ownership of their article. Permitted third-party reuse of the open access articles is defined by the applicable Creative Commons (CC) end-user license which is accepted by the Authors upon submission of their paper. All articles in the acoj are published under the CC BY-NC 4.0 license, meaning that end users can freely share an article (i.e. copy and redistribute the material in any medium or format) and adapt it (i.e. remix, transform and build upon the material) on the condition that proper attribution is given (i.e. appropriate credit, a link to the applicable license and an indication if any changes were made; all in such a way that does not suggest that the licensor endorses the user or the use) and the material is only used for non-commercial purposes. 
Authors retain copyright and grant the journal the right of first publication with the work simultaneously licensed under a Creative Commons Attribution 4.0 International License that allows others to share the work with an acknowledgment of the work's authorship and initial publication in this journal.
Authors are able to enter into separate, additional contractual arrangements for the non-exclusive distribution of the journal's published version of the work (e.g., post it to an institutional repository, in a journal or publish it in a book), with an acknowledgment of its initial publication in this journal.
Authors are permitted and encouraged to post their work online (e.g., in institutional repositories or on their website) prior to and during the submission process.