Vocational English Teachers' Challenges on Shifting Towards Virtual Classroom Teaching
Keywords:
challenges, online teaching, virtual classroom, Covid19, teachers' attitudes
Abstract
The Covid19 pandemic has brought significant influences on every aspect of our lives and society. With the determination to keep learning continued during Covid19, education itself has innovated remarkably to adapt to the lockdown situation in many regions in Asia. Among those, shifting from traditional face-to-face classrooms into online learning has been considered the ultimate solution with tremendous approvals from all stakeholders. However, at some vocational institutions, the shifting to virtual classrooms has plenteous challenges to all involved partners. Since teachers are the keys to effective implementation of this shifting during Covid19, it is crucial to understand their challenges to the shifting towards virtual classroom teaching. This paper aims to investigate the attitudes of the English teachers in some vocational colleges in Vietnam and their challenges for transferring their face-to-face classrooms into online ones. This research collected the data from a questionnaire survey to 45 vocation English teachers at five vocational colleges and in-depth interviews with nine teachers. The findings would be presented to firstly identify the vocational English teachers' attitudes towards shifting to the virtual classroom. This research also revealed some challenges of teaching online classroom from the teachers' voices, such as students' and teachers' technology-competences, students' motivations, students' technical support, teachers' experiences, teachers' willingness, and institutions' purposes and strategies. Some practical suggestions will be presented for teachers on how to face and solve these challenges, specifically during and post Covid19 period.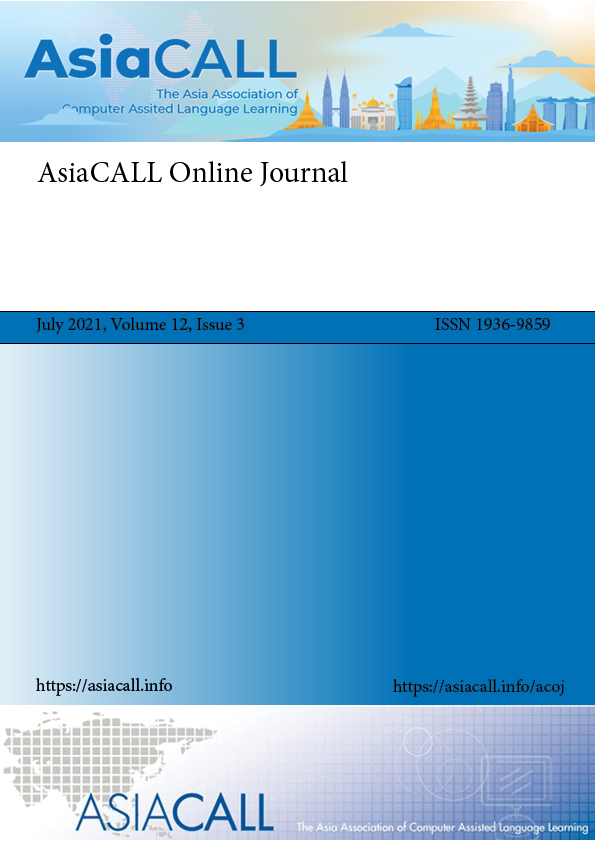 Downloads
How to Cite
Hoang, N. T., & Le, D. H. (2021). Vocational English Teachers' Challenges on Shifting Towards Virtual Classroom Teaching. AsiaCALL Online Journal, 12(3), 58-73. Retrieved from https://asiacall.info/acoj/index.php/journal/article/view/39
License
Copyright
The copyright of all articles published in the AsiaCALL Online Journal (acoj) remains with the Authors, i.e. Authors retain full ownership of their article. Permitted third-party reuse of the open access articles is defined by the applicable Creative Commons (CC) end-user license which is accepted by the Authors upon submission of their paper. All articles in the acoj are published under the CC BY-NC 4.0 license, meaning that end users can freely share an article (i.e. copy and redistribute the material in any medium or format) and adapt it (i.e. remix, transform and build upon the material) on the condition that proper attribution is given (i.e. appropriate credit, a link to the applicable license and an indication if any changes were made; all in such a way that does not suggest that the licensor endorses the user or the use) and the material is only used for non-commercial purposes. 
Authors retain copyright and grant the journal the right of first publication with the work simultaneously licensed under a Creative Commons Attribution 4.0 International License that allows others to share the work with an acknowledgment of the work's authorship and initial publication in this journal.
Authors are able to enter into separate, additional contractual arrangements for the non-exclusive distribution of the journal's published version of the work (e.g., post it to an institutional repository, in a journal or publish it in a book), with an acknowledgment of its initial publication in this journal.
Authors are permitted and encouraged to post their work online (e.g., in institutional repositories or on their website) prior to and during the submission process.