Developing Bottom-up Listening Skills in a Google Classroom-based EFL module
Keywords:
EFL bottom-up listening, the use of technology, learner autonomy, Google Classroom, Vietnam
Abstract
The influence of a mini EFL listening module of bottom-up activities on learners' listening ability and students' views on using Google Classroom is used as a tool for language learning and teaching. The students were 100 first-year EFL students at Hanoi. The teaching practice of EFL listening has not well addressed bottom-up listening skills (Seigel & Seigel, 2015). Moreover, autonomous listening is not very well focused in current pedagogy (Field, 2008). This study was conducted to investigate Pedagogical University 2. The module was developed on the Google Classroom platform, which incorporates listening activities on different bottom-up skills. The students completed the assigned bottom-up listening activities on the platform every week over a period of 10 weeks. The data were collected from an online survey (n=100) and a dictation pre-test, and a dictation post-test (n=100). This conference paper reported the results drawn from the survey data with 100 students. The results showed that the module improved students' bottom-up listening skills and positively affected their autonomy. The study suggests that EFL teachers should be more aware of the importance of bottom-up activities and allocate adequate time for them in listening courses, especially for low-level learners. Furthermore, the study indicates that Google Classroom, as a sample tool of technologies, can be employed with sound pedagogy to benefit students.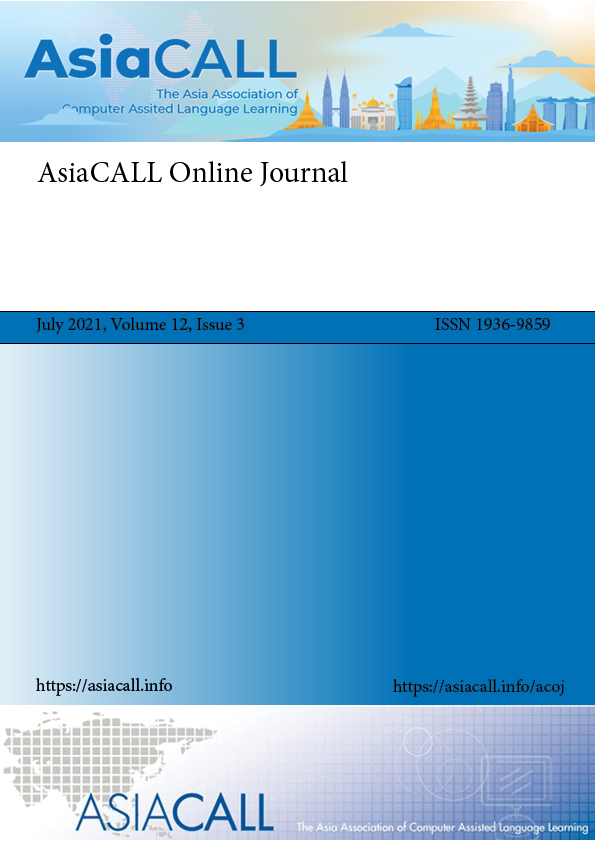 Downloads
How to Cite
Nguyen Thi Hong Nhat. (2021). Developing Bottom-up Listening Skills in a Google Classroom-based EFL module. AsiaCALL Online Journal, 12(3), 47-57. Retrieved from https://asiacall.info/acoj/index.php/journal/article/view/45
License
Copyright
The copyright of all articles published in the AsiaCALL Online Journal (acoj) remains with the Authors, i.e. Authors retain full ownership of their article. Permitted third-party reuse of the open access articles is defined by the applicable Creative Commons (CC) end-user license which is accepted by the Authors upon submission of their paper. All articles in the acoj are published under the CC BY-NC 4.0 license, meaning that end users can freely share an article (i.e. copy and redistribute the material in any medium or format) and adapt it (i.e. remix, transform and build upon the material) on the condition that proper attribution is given (i.e. appropriate credit, a link to the applicable license and an indication if any changes were made; all in such a way that does not suggest that the licensor endorses the user or the use) and the material is only used for non-commercial purposes. 
Authors retain copyright and grant the journal the right of first publication with the work simultaneously licensed under a Creative Commons Attribution 4.0 International License that allows others to share the work with an acknowledgment of the work's authorship and initial publication in this journal.
Authors are able to enter into separate, additional contractual arrangements for the non-exclusive distribution of the journal's published version of the work (e.g., post it to an institutional repository, in a journal or publish it in a book), with an acknowledgment of its initial publication in this journal.
Authors are permitted and encouraged to post their work online (e.g., in institutional repositories or on their website) prior to and during the submission process.