Abstracts from the 17th AsiaCALL International Conference and VLTESOL
AsiaCALL2021 & VLTESOL
Keywords:
AsiaCALL, VLTESOL
Abstract
Welcome to AsiaCALL2021, the 17th International Conference of the Asia Association of Computer-Assisted Language Learning (AsiaCALL). AsiaCALL is a research and professional association dedicated to bringing people together in research and professional ventures. It is also committed to enabling access for everyone to new knowledge and to encourage collaboration in new technology-based ventures relating to language education. To this end, it has always been successful in finding ways of bringing together researchers and practitioners from all over the world, and Asia in particular, with no regard to status, income or experience so as to attain the highest levels of intellectual and cultural diversity as a way of enriching the field of technology and language learning.

This year is no exception, and it is made more challenging by the Covid-19 pandemic that is sweeping the world. Covid- 19 has touched the lives of a huge number of people and its aftermath will impact the lives of all inhabitants of the planet perhaps forever. This is the reason that Covid-19 has been incorporated into the conference theme and we note that many people have devoted their time and energy to analyse the situation and arrive at conclusions for how to ensure good language education given the limitations on travel and contact that we all have to endure. And the AsiaCALL community has responded strongly to this challenge through its various research agenda. Indeed, we are very lucky to have received some 110 abstracts from a little more than 200 authors covering the entire range of topics specified in the conference theme. These 200 authors come from Vietnam, of course, but also from 14 other countries and from every continent. They truly represent the intellectual and cultural capital and diversity that defines our existence and enrich us all.
This book of abstracts represents, in summary form, the many intellectual and research endeavours of conference participants that are to be delivered online or in person. Some presentations, already reviewed in a double-blind process, will be converted to written articles and will then be further reviewed as they are published in the Proceedings published through Atlantis or as articles in the AsiaCALL Online Journal. We hope that participants will benefit from these publication arrangements.
In closing, I should like to express AsiaCALL's heartfelt gratitude to all who helped make this conference possible, from the workers on the ground to the principal organisers of the conference. In particular, I wish to thank Van Lang University for making its wonderful facilities available both physically and virtually. Without the support of Van Lang University this conference would certainly not have happened. Very special thanks indeed also go to Associate Professor Dr. Pham Vu Phi Ho from the Faculty of Foreign Languages of Van Lang University who organized every aspect of this conference, and Dr. Phan The Hung, Dean of the Faculty of Foreign Languages at Van Lang University. We are honoured that he has accepted to be the Chairman of AsiaCALL2021 and, in that capacity, he has played a critically important part in the creation of the best possible environment for the conference. Sponsors are of great importance too and we wholeheartedly recognize their continuing support for AsiaCALL.
Finally, I wish to thank the participants. You are the most important people here as you are the very lifeblood of any conference or association. Congratulations on choosing to connect with AsiaCALL2021 and may your deliberations and friendships both old and new growth to be warm and fruitful.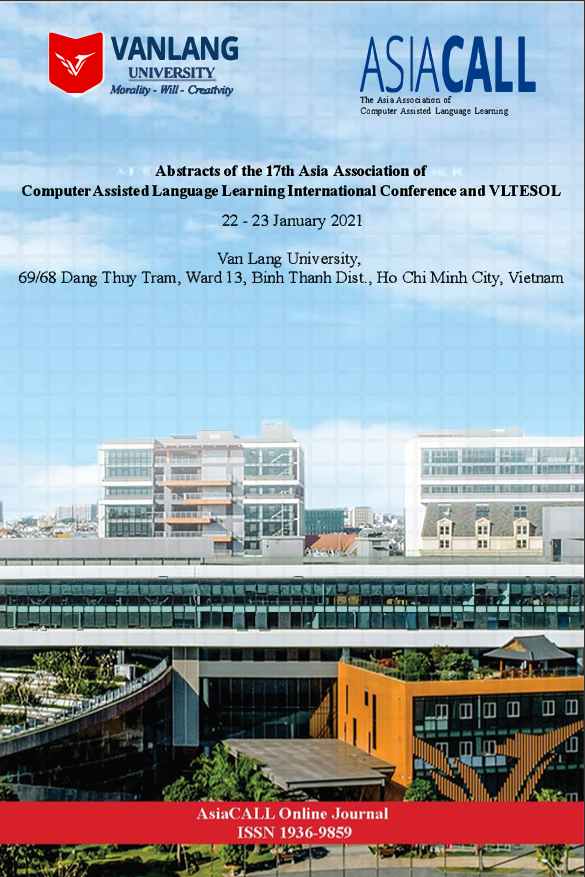 Downloads
How to Cite
Editor, M. (2021). Abstracts from the 17th AsiaCALL International Conference and VLTESOL: AsiaCALL2021 & VLTESOL. AsiaCALL Online Journal, 12(1), 1-116. Retrieved from https://asiacall.info/acoj/index.php/journal/article/view/46
License
Copyright
The copyright of all articles published in the AsiaCALL Online Journal (acoj) remains with the Authors, i.e. Authors retain full ownership of their article. Permitted third-party reuse of the open access articles is defined by the applicable Creative Commons (CC) end-user license which is accepted by the Authors upon submission of their paper. All articles in the acoj are published under the CC BY-NC 4.0 license, meaning that end users can freely share an article (i.e. copy and redistribute the material in any medium or format) and adapt it (i.e. remix, transform and build upon the material) on the condition that proper attribution is given (i.e. appropriate credit, a link to the applicable license and an indication if any changes were made; all in such a way that does not suggest that the licensor endorses the user or the use) and the material is only used for non-commercial purposes. 
Authors retain copyright and grant the journal the right of first publication with the work simultaneously licensed under a Creative Commons Attribution 4.0 International License that allows others to share the work with an acknowledgment of the work's authorship and initial publication in this journal.
Authors are able to enter into separate, additional contractual arrangements for the non-exclusive distribution of the journal's published version of the work (e.g., post it to an institutional repository, in a journal or publish it in a book), with an acknowledgment of its initial publication in this journal.
Authors are permitted and encouraged to post their work online (e.g., in institutional repositories or on their website) prior to and during the submission process.