The Effects of MS PowerPoint on Students at a Malaysian University in the English for Professionals (EFP) Classrooms
Keywords:
MS PowerPoint, perceptions of students, students' learning
Abstract
The use of Microsoft PowerPoint (a form of multimedia) presentations in classroom instruction has significantly increased globally on both online and offline platforms. This study examines the perception of "English for Professionals (EFP)" students toward the usage of MS PowerPoint in the classrooms for delivering lectures and the effects of MS PowerPoint on students' learning. Questionnaires were used to conduct a quantitative survey. Descriptive analysis was used to analyze the results of this quantitative research. The results illustrate the students' positive attitude toward lectures presented with MS PowerPoint slides. While the majority of the students were receptive, a significant percentage held an indifferent view. The implication is that while MS PowerPoint is a dominant tool in teaching, there is a need to understand the factors behind the neutral reception, whether they are in the tool itself, the application by the educators, or the expertise of the educators in developing the slides.
References
Anime, B. M., Benachaiba, C., & Guemide, B. (2012). Using Multimedia to Motivate Students in EFL Classrooms: A Case Study of English Master's Students at Jijel University, Algeria. Malaysian Journal of Distance Education, 14(2), 63-81.
Craig, R., & Amernic, J.H. (2003). PowerPoint Presentation Technology and the Dynamics of Teaching. Innov High Educ (2006) 31: 147–160. Springer. Retrieved from https://link.springer.com/article/10.1007/s10755-006-9017-5
Fatema, SL (2014). The Impact of Using PowerPoint on Students' Learning and Motivation in Secondary Schools. Procedia - Social and Behavioral Sciences, 98, 1672 – 1677 Retrieved from https://core.ac.uk/download/pdf/82348198.pdf
Girón-García, C., & Gargallo-Camarillas, N. (2020). Multimodal and Perceptual Learning Styles: Their Effect on Students' Motivation in a Digital Environment. The EuroCALL Review, 28(2), 23-38. https://doi.org/10.4995/eurocall.2020.12758 Retrieved from https://files.eric.ed.gov/fulltext/EJ1288572.pdf
Hill, A., Arford, T., Lubitow, A., & Smollin, L. (2012). "I'm Ambivalent about It": The Dilemmas of PowerPoint. The New Press
Harrison, A. (1999). Power Up! Stimulating your Students with PowerPoint. Learning and Leading With Technology, 26(4), 6 – 9.
Hossein, N. (2008). The Effects of PowerPoint Lecture Notes on Student Performance and attitudes. Retrieved from https://www.aejournal.com/ojs/index.php/aej/article/download/99/69
Ibrahim, R. (2018). The Effect Of Using Powerpoint Presentations In Academic Achievement Of Social And National Studies In The Fifth Grade Students At-Risk For Learning Disabilities. International journal of research, 6(3), 191-202. Retrieved from http://oaji.net/articles/2017/1330-1524376263.pdf
Jamieson, S. (2017, 27 September). Likert scale. Encyclopedia Britannica. https://www.britannica.com/topic/Likert-Scale
Kosslyn, S.M., Kievit, R. A., Russell, A. G., & Shephard, J.M. ( 2012). PowerPoint presentation flaws and failures: a psychological analysis. Frontiers in Psychology Journal. Retrieved from https://www.frontiersin.org/articles/10.3389/fpsyg.2012.00230/full
Manju, MP (2012). PowerPoint Use in Teaching. Retrieved from http://www.cs.iit.edu/~cs561/spring2012/PowerPoint/ChenQ.pdf
Microsoft PowerPoint. (2022). Retrieved 26 June, 2022, from https://en.wikipedia.org/wiki/Microsoft_PowerPoint
Pham, N. K. T. (2022). Vietnamese Students' Perspectives on Online Micro-Teaching (OMT) as a Technique in English Teacher Education in the 4.0 Era. AsiaCALL Online Journal, 13(1), 40-72. Retrieved from http://eoi.citefactor.org/10.11251/acoj.13.01.003
Ozaslan, E.N., & Maden, Z. (2013). The use of PowerPoint presentations at the department of foreign language education at middle east technical university. Middle Eastern & African Journal of Educational Research, Issue 2(1), 38-45.
Sadoudi, Y. (2013). The effects of using PowerPoint presentations, during lectures, on EFL students' motivation and attitudes: Case study: Master 1 AL & ELT University of Bejaia (Doctoral dissertation, University of Bejaia). Retrieved from http://www.univ-bejaia.dz/dspace/bitstream/handle/123456789/5707/The%20effects%20of%20using%20PowerPoint%20presentations%2C%20during%20lectures%2C%20on%20EFL%20students%27%20motivation%20and%20attitudes.pdf?sequence=1&isAllowed=y
Segundo, E. & Salazar, D. (2011). The efficacy of using power point presentations to improve grammar and vocabulary learning among students of the intermediate II level (Regular program) of El Cultural Centro Peruano Americano in Trujillo, Peru. Repositorio institucional, PIRHUA- Universided de Piura
Szabo, A., & Hastings, N. (2000). Using IT in the undergraduate classroom: should we replace the blackboard with PowerPoint? Computers & Education, 35 (3) 175-187. Pergamon.
Thorne, S., & May, S. (2017). Language, Education and Technology. (3rd Ed.). Springer
Yukiko I-S., & Wang S. (2016). College-based case studies in using PowerPoint effectively. Cogent Education Journal, Vol.3, 2016- Issue 1. Retrieved from https://www.tandfonline.com/doi/full/10.1080/2331186X.2015.1127745
Zouar, A. (2015). Exploring Students' Perceptions of using PowerPoint in Enhancing Their Active Participation in the EFL Classroom Action Research Study. Journal of Literature, Languages and Linguistics. ISSN2422-8435, Vol. 5, 2015.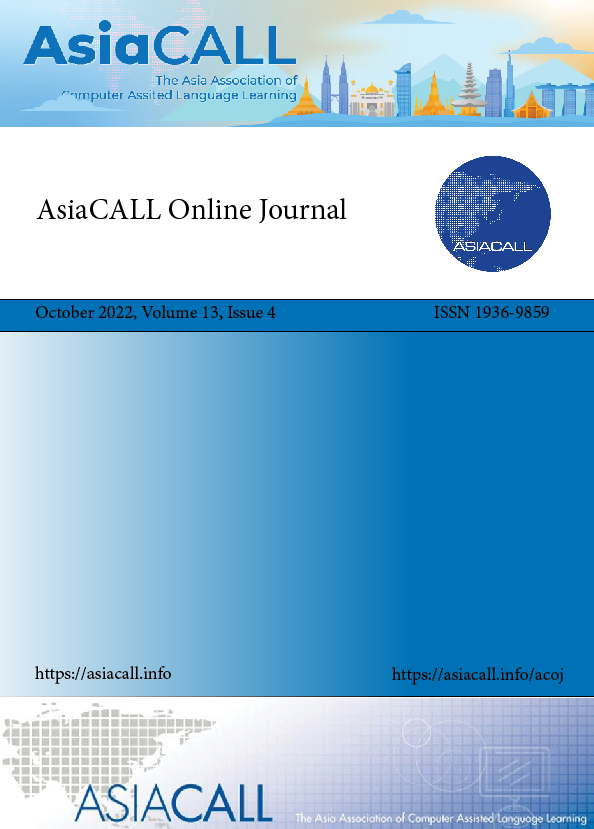 Downloads
How to Cite
Ng, Y. S., & Ranti, A. T. (2022). The Effects of MS PowerPoint on Students at a Malaysian University in the English for Professionals (EFP) Classrooms. AsiaCALL Online Journal, 13(4), 32-43. https://doi.org/10.54855/acoj.221343
License
Copyright (c) 2022 Yim San NG, Abegunde Theophilus Ranti
This work is licensed under a Creative Commons Attribution 4.0 International License.
Copyright
The copyright of all articles published in the AsiaCALL Online Journal (acoj) remains with the Authors, i.e. Authors retain full ownership of their article. Permitted third-party reuse of the open access articles is defined by the applicable Creative Commons (CC) end-user license which is accepted by the Authors upon submission of their paper. All articles in the acoj are published under the CC BY-NC 4.0 license, meaning that end users can freely share an article (i.e. copy and redistribute the material in any medium or format) and adapt it (i.e. remix, transform and build upon the material) on the condition that proper attribution is given (i.e. appropriate credit, a link to the applicable license and an indication if any changes were made; all in such a way that does not suggest that the licensor endorses the user or the use) and the material is only used for non-commercial purposes. 
Authors retain copyright and grant the journal the right of first publication with the work simultaneously licensed under a Creative Commons Attribution 4.0 International License that allows others to share the work with an acknowledgment of the work's authorship and initial publication in this journal.
Authors are able to enter into separate, additional contractual arrangements for the non-exclusive distribution of the journal's published version of the work (e.g., post it to an institutional repository, in a journal or publish it in a book), with an acknowledgment of its initial publication in this journal.
Authors are permitted and encouraged to post their work online (e.g., in institutional repositories or on their website) prior to and during the submission process.