Correlation between Internet Literacy and Vocabulary Level
Implication towards Reading Comprehension
Keywords:
reading comprehension, internet literacy, vocabulary level, senior high school
Abstract
In-depth research on reading comprehension receives less attention in basic education, despite the fact that the problem is just as critical, if not more so, in this pandemic era. This study aims to learn the dynamics of reading comprehension to draw a conclusion on the phenomenon. Terry (2022) observed a strong connection between vocabulary and reading comprehension. However, meager studies have correlated two variables – Internet Literacy (IV) and Vocabulary Level (DV) – with combined implications for Reading Comprehension. With the globalization of online learning, urban demography's visibility was catered with 83 Senior High School students as respondents. The data revealed a low correlation. Generally, the high mean for online literacy and high mean in the performed evaluation showed the participants' awareness of how to use the digital side of learning and a decent vocabulary level. Null Hypothesis II was accepted in this research. Interestingly, this low correlation could be affected by the students' internal and external strategies, which created an impetus for their reading comprehension aside from digital utilization.
References
Abidin, M. J. Z., Pour-Mohammadi, M., Shoar, N. S., Cheong, S. T. H., &Jafre, A. M. (2021). A comparative study of using multimedia annotation and printed textual glossary in learning vocabulary. International Journal of Learning and Development, 1(1), 82-90. https://doi.org/10.5296/ijld.v1i1.1070
Alemi, M., &Lari, Z. (2020). SMS vocabulary learning: A tool to promote reading comprehension in L2. International Journal of Linguistics, 4(4), 275–287. https://doi.org/10.5296/ijl.v4i4.2318
Capodieci A, Cornoldi C, Doerr E, Bertolo L and Carretti B (2020) The Use of New Technologies for Improving Reading Comprehension. Front. Psychol. 11:751. doi: 10.3389/fpsyg.2020.0075
Cilento, I & Mota, F. (2020). Competence for internet use: Integrating knowledge, skills, and attitudes. Computers and Education, 1(4), 441-450. https://doi.org/10.1016/j.caeo.2020.100015
Coiro, J. (2021). Predicting Reading Comprehension on the Internet: Contributions of Offline Reading Skills, Online Reading Skills, and Prior Knowledge. Journal of Literacy Research, 43(4), 352-392. https://journals.sagepub.com/doi/full/10.1177/1086296X11421979.
Ghalebi, R., Sadighi., R & Bagheri, M. (2020) Vocabulary learning strategies: A comparative study of EFL learners. Cogent Psychology, 7 (1), 24-33. doi:10.1080/23311908.2020.1824306
Hu, M., & Nation, I. S. P. (2020). Vocabulary density and reading comprehension. Reading in a Foreign Language, 23(1), 403-430
Hurwitz, L. & Schmitt, K. (2020). Can children benefit from early internet exposure? Short-and long-term links between internet use, digital skill, and academic performance. Computers and Education, 146 (1), 62-74. https://doi.org/10.1016/j.compedu.2019.103750
Merez, A. (2020). Palace: Poor Reading Comprehension of Pinoy Students a 'Reality'. https://www.google.com/amp/s/news.abscbn.com/amp/news/12/05/19/palace-poor-reading-comprehension-of-pinoys-students-a-reality
Milton, J., & Hopkins, N. (2021). Comparing phonological and orthographic vocabulary size: Do vocabulary tests underestimate the knowledge of some learners? Canadian Modern Language Review, 63, 127-147. http://dx.doi.org/10.1353/cml.2006.0048
Moghadam, S. H. (2021). The relationship between depth and breadth of vocabulary knowledge and reading comprehension. http://eprints.utm.my/id/eprint/32622/5/SoodehHamzehlouMFP2012.pdf
Nguyen Thi Ngoc Anh, Le Thanh Huyen (2021). Technology in English Education in Remote Mountainous Areas: Being Flexible to Bend. AsiaCall Online Journal
Sharma, D., Sood, A.K., Darius, P.S.H. et al. (2022). A Study on the Online-Offline and Blended Learning Methods. Journal of the Institution Engineers, 16 (4), 1281-1289. https://doi.org/10.1007/s40031-022-00766-y
Tan, L. (2020). Correlational Study. In Thompson, W.F. (Ed.), Music in the Social and Behavioral Sciences: An Encyclopedia (pp. 269-271). Thousand Oaks: SAGE Publications.
Tinmaz, H., Lee, YT., Fanea-Ivanovici, M. et al. (2022). A systematic review on digital literacy. Smart Learning. Environments, 9 (21), 577-588. https://doi.org/10.1186/s40561-022-00204-y
Tran Quoc Thao, and Nguyen Pham Thanh Tha (2021). Non-English Majored Students' Use of English Vocabulary Learning Strategies with Technology-Enhanced Language Learning Tools. AsiaCall Online Journal, 17(4), 455-463.
Terry, B. (2022). Vocabulary and reading comprehension. Words their way: Word study for phonics, vocabulary, and spelling instruction (5th ed.).
Van Lam Kieu, Dang Truc Anh, Pham D. Bao Tran, Vo T. Thanh Nga, and Pham V. Phi Ho (2021). The Effectiveness of Using Technology in Learning English. AsiaCall Online Journa, 12(2), 24-40. https://asiacall.info/acoj/index.php/journal/article/view/26
Walker, A., & White, G. (2020). Technology-enhanced language learning: Connecting theory and practice. Oxford: Oxford University
Weganofa, R., & Lutviana.R. (2022). The Correlation Between Internet Literacy and Passive
Vocabulary Size. Lingua Cultura, 12 (4), 339-343. doi:10.21512/lc.v12i4.4113.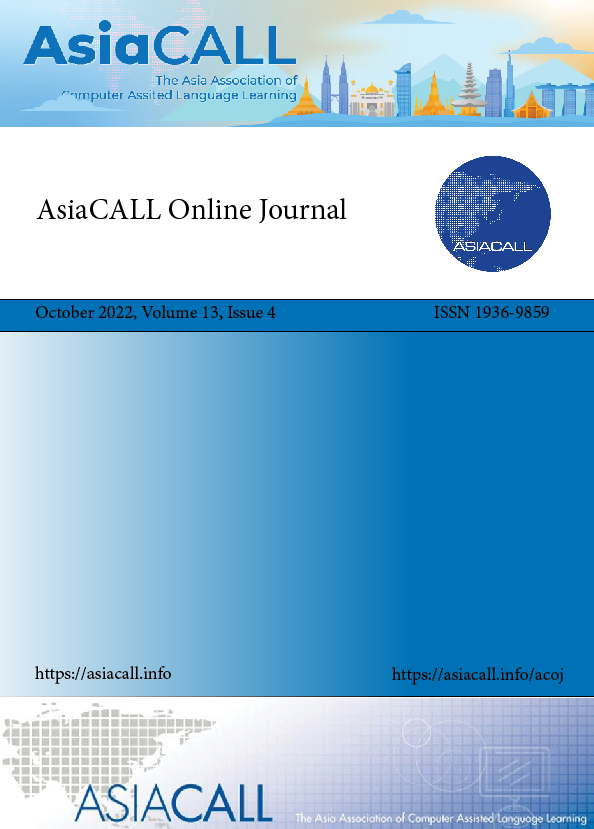 Downloads
How to Cite
Casibual, J. P., & Nacua, J. B. (2022). Correlation between Internet Literacy and Vocabulary Level: Implication towards Reading Comprehension. AsiaCALL Online Journal, 13(4), 44-54. https://doi.org/10.54855/acoj.221344
License
Copyright (c) 2022 Joseph P. Casibual Jr , Julrem B. Nacua
This work is licensed under a Creative Commons Attribution 4.0 International License.
Copyright
The copyright of all articles published in the AsiaCALL Online Journal (acoj) remains with the Authors, i.e. Authors retain full ownership of their article. Permitted third-party reuse of the open access articles is defined by the applicable Creative Commons (CC) end-user license which is accepted by the Authors upon submission of their paper. All articles in the acoj are published under the CC BY-NC 4.0 license, meaning that end users can freely share an article (i.e. copy and redistribute the material in any medium or format) and adapt it (i.e. remix, transform and build upon the material) on the condition that proper attribution is given (i.e. appropriate credit, a link to the applicable license and an indication if any changes were made; all in such a way that does not suggest that the licensor endorses the user or the use) and the material is only used for non-commercial purposes. 
Authors retain copyright and grant the journal the right of first publication with the work simultaneously licensed under a Creative Commons Attribution 4.0 International License that allows others to share the work with an acknowledgment of the work's authorship and initial publication in this journal.
Authors are able to enter into separate, additional contractual arrangements for the non-exclusive distribution of the journal's published version of the work (e.g., post it to an institutional repository, in a journal or publish it in a book), with an acknowledgment of its initial publication in this journal.
Authors are permitted and encouraged to post their work online (e.g., in institutional repositories or on their website) prior to and during the submission process.