Implementing the Flipped Learning Comprehensive Model (FLCM) through Basic Informatics Course, Van Lang University, 2021 – 2022
Keywords:
eLearning, LMS Moodle, LMS, H5P, FLCM
Abstract
During the implementation phase of the Elearning teaching system for the 2021-2022 school year, with the requirements set forth for the subject of research and implementation of the teaching system, it is possible to apply flexible teaching for a group ranging from 0% to 100% of students and online learners. At the same time, it encourages students to actively participate in learning throughout the learning content deployed by the subject. We have focused on research and implementation of the comprehensive Flipped Learning Model, The Flipped Learning Comprehensive Model – FLCM, which uses H5P interactive teaching content to provide instant, attention-grabbing feedback for students. Furthermore, we also implement the development and rearrangement of learning materials and learning activities that require learners to complete their studies according to the set course schedule. Besides the development of content, we also have interactive lectures that return immediate results to help attract students to complete the course. We have implemented the FLCM model during the 1st and 2nd semesters of the academic year 2021 – 2022, with more than 12,000 students. At the end of the course, we collected statistics on positive and proactive changes in students through learning activities on the Elearning site implemented by the FLCM method. Due to the content with interactive videos, the number of active students increased by over 70%.
References
Bloom, B. (1956). Taxonomy of educational objectives: The classification of educational goals.
Chung , K., & Hwang, G.-J. (2018). How to advance our understanding of flipped learning: Directions and a descriptive framework for future research. (pp. 441–454). Knowledge Management & E-Learning.
Han, Y., Liyue , T., & Cheng, W. (2017). Design and Implementation of Mobile Blended Learning Model Based on WeChat Public Platform. MATEC Web of Conferences, 100. doi:10.1051/matecconf/201710002020
Hiroyuki, O. (2021). The Integration of 21st Century Skill and Virtual Learning with COVID-19. AsiaCALL Online Journal, 22-27. Retrieved from https://asiacall.info/acoj/index.php/journal/article/view/30
Koohang, A., Riley, L., & Smith, T. (2009). Elearning and Constructivism: From Theory to Application. Interdisciplinary Journal of E-Learning and Learning Objects. 5. Georgia: Journal of elearing and Learning Objects.
Oproiu, G. C. (2015). A Study about Using E-learning Platform (Moodle) in University Teaching Process. The 6th International Conference Edu World 2014 "Education Facing Contemporary World Issues", 180, 426-432. doi:https://doi.org/10.1016/j.sbspro.2015.02.140
Rekhari, S. &. (2018). H5P and Innovation in Anatomy and Physiology Teaching. Research and Development in Higher Education: [Re] Valuing Higher Education . 41, p. 266. Houston: Dale Wache and Don Houston.
Reyna, J. (2019). Surfing the Open Oceans of Flipped Learning: A Comprehensive Student-Centred Model to Implement Flipped Classrooms. Society for Information Technology & Teacher Education International Conference (SITE)At: Las Vegas. Las Vegas.
Sharp, J. H., & Sharp, L. A. (2017). A Comparison of Student Academic Performance with Traditional, Online, and Flipped Instructional Approaches in a C# Programming Course. Journal of Information Technology Education: Innovations in Practice, 215-231. doi:10.28945/3795
Tran, N. Y., Nguyen, M. T., Do, T. T., & Nguyen, H. Q. (2021). Implementing Elearning System For General Information Technology Course At Van Lang University. AsiaCALL online journal Elearning Mlearning Technology Computer-assisted language learning Education Language Linguistics, 12(ISSN 1936 - 9859), 41-50.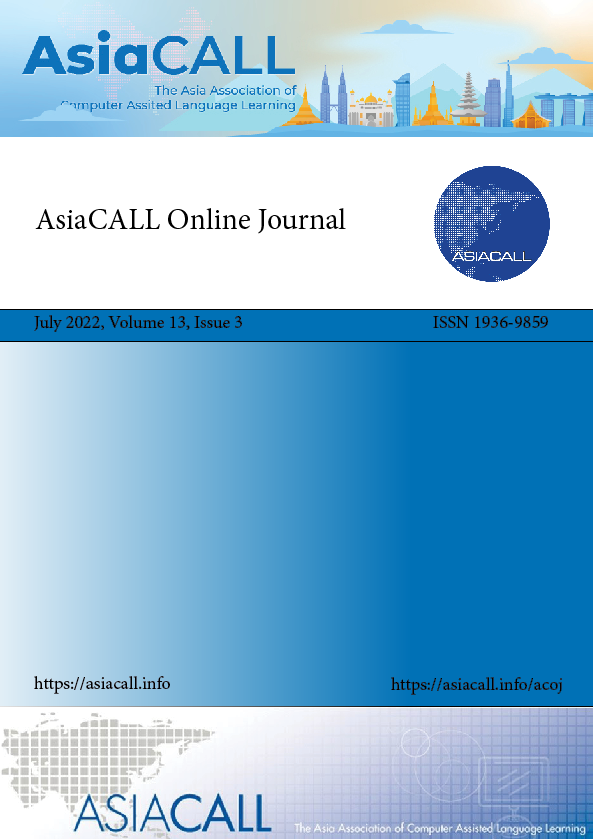 Downloads
How to Cite
Tran, T. Y. N., & Nguyen, T. N. M. (2022). Implementing the Flipped Learning Comprehensive Model (FLCM) through Basic Informatics Course, Van Lang University, 2021 – 2022. AsiaCALL Online Journal, 13(3), 36-50. https://doi.org/10.54855/acoj.221334
License
Copyright (c) 2022 Tran Thi Yen Nhi, Nguyen Thu Nguyet Minh
This work is licensed under a Creative Commons Attribution 4.0 International License.
Copyright
The copyright of all articles published in the AsiaCALL Online Journal (acoj) remains with the Authors, i.e. Authors retain full ownership of their article. Permitted third-party reuse of the open access articles is defined by the applicable Creative Commons (CC) end-user license which is accepted by the Authors upon submission of their paper. All articles in the acoj are published under the CC BY-NC 4.0 license, meaning that end users can freely share an article (i.e. copy and redistribute the material in any medium or format) and adapt it (i.e. remix, transform and build upon the material) on the condition that proper attribution is given (i.e. appropriate credit, a link to the applicable license and an indication if any changes were made; all in such a way that does not suggest that the licensor endorses the user or the use) and the material is only used for non-commercial purposes. 
Authors retain copyright and grant the journal the right of first publication with the work simultaneously licensed under a Creative Commons Attribution 4.0 International License that allows others to share the work with an acknowledgment of the work's authorship and initial publication in this journal.
Authors are able to enter into separate, additional contractual arrangements for the non-exclusive distribution of the journal's published version of the work (e.g., post it to an institutional repository, in a journal or publish it in a book), with an acknowledgment of its initial publication in this journal.
Authors are permitted and encouraged to post their work online (e.g., in institutional repositories or on their website) prior to and during the submission process.