Cross-Disciplinary Language Teaching
Keywords:
cross-disciplinary; integrated; language teaching; cognitive linguistics; cognitive approach
Abstract
For the reason that the labor markets is increasingly demanding for workforce with multi-specialization, cross-disciplinarity is growing more and more important. Therefore, foreign languages teaching must match what society is demanding from professions to have a cross-disciplinary role with a focus on results-oriented to keep up with the fact that leading sciences nowadays proceed by solving complex problems cutting across disciplines. Moreover, there are permanent language barriers and cognitive differences between languages, cultures and disciplines, which have caused difficulties for learners and teachers. Thus, we suggest using cognitive linguistics techniques and approaches to process the problems within the background of cross-disciplinarity because, in the viewpoint of cognitive linguistics, a linguistic term does not exist exclusively from its syntagmatic or paradigmatic relationships with the others, but also the foundation knowledge based on the culture and conventionalization. Cognitive linguistics has integrated advancements in philosophy, history, neurology, anthropology, language, psychology, and computer science. For that reason, a procedure with a cognitive perspective provides satisfactory conceptual techniques for the teaching practice. From the research, we have gained four principles for language teaching and applications in teaching vocabulary, teaching prepositions and teaching clauses. This approach combines traditional methods with modern ones as a problem-solving, case study, etc., which aims at having practicable, time-saving, but most authentic and effective applications.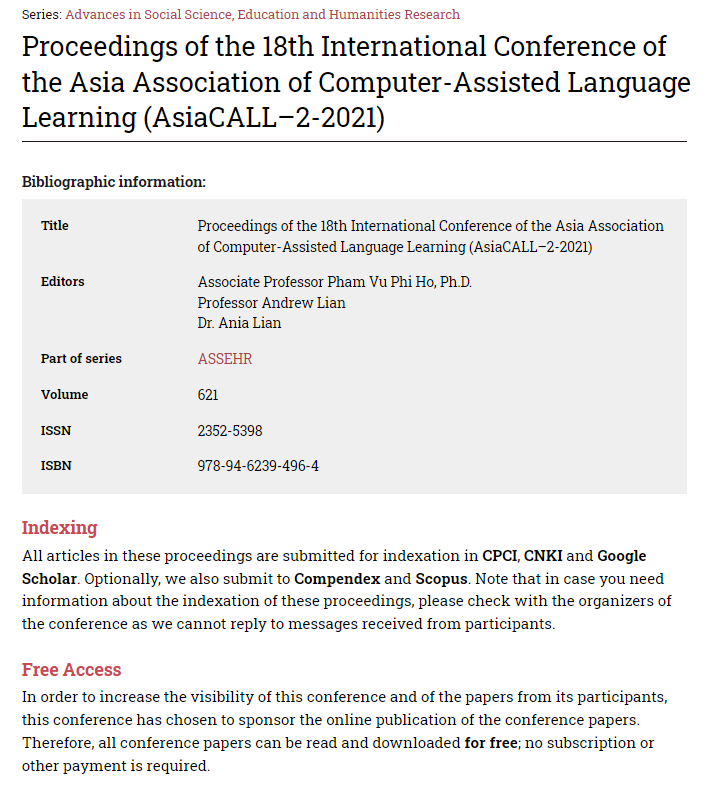 Downloads
How to Cite
Hoang, N. P. (2021). Cross-Disciplinary Language Teaching. Proceedings of the AsiaCALL International Conference, 621, 65–75. https://doi.org/10.2991/assehr.k.211224.008
License
Copyright (c) 2022 Phuong Nguyen Hoang
This work is licensed under a Creative Commons Attribution 4.0 International License.
Copyright
The copyright of all articles published in the Proceedings of the AsiaCALL International Conference (paic) remains with the Authors, i.e. Authors retain full ownership of their article. Permitted third-party reuse of the open access articles is defined by the applicable Creative Commons (CC) end-user license which is accepted by the Authors upon submission of their paper. All articles in the aicp are published under the CC BY-NC 4.0 license, meaning that end users can freely share an article (i.e. copy and redistribute the material in any medium or format) and adapt it (i.e. remix, transform and build upon the material) on the condition that proper attribution is given (i.e. appropriate credit, a link to the applicable license and an indication if any changes were made; all in such a way that does not suggest that the licensor endorses the user or the use) and the material is only used for non-commercial purposes.