Evaluating Online Applications in Teaching and Learning English for Mechanical Engineering Students at Hanoi University of Industry during COVID-19 Period
Keywords:
online teaching and learning English, benefits, drawbacks, solutions, interactive applications, the application of software
Abstract
Since the COVID-19 pandemic occurred, social fields ​​in general or education, in particular, have been affected considerably. Education, however, cannot or will not be interrupted due to this outbreak of infection. Specifically, face-to-face classes have been shifted to online ones. To maintain the effectiveness of learning and teaching English to students in the faculty of Mechanical Engineering, teachers have applied some applications, including Padlet, Google Classroom, and Quizizz. Quantitative and qualitative analysis methods will answer the research questions. The tools used for data collection are questionnaires and interviews. The authors conducted questionnaires and interviews with lecturers and second-year students of the Faculty of Mechanical Engineering at Hanoi University of Industry. This article focuses on evaluating the application of software in the online English teaching and learning process at ​​Hanoi University of Industry. Besides, this paper demonstrates the benefits and drawbacks of these interactive applications as well as suggests some effective solutions to help teachers facilitate students in learning English more successfully.
References
Al-Maskari, A., Al-Riyami, T., & Kunjumuhammed, S. K. (2021). Students academic and social concerns during COVID-19 pandemic. Education and Information Technologies, 27(1), 1–21. https://doi.org/10.1007/s10639-021-10592-2
Ali W. Online and remote learning in higher education institutes: A necessity in light of COVID-19 pandemic. Higher Education Studies. 2020; 10(3), 16–25. https://doi.org/10.5539/hes.v10n3p16
Chaiyo, Y., & Nokham, R. (March 2017). The effect of Kahoot, Quizizz and Google Forms on the student's perception in the classrooms response system. In 2017 International Conference on Digital Arts, Media and Technology (ICDAMT) (pp. 178-182). IEEE.
Dewi, N. N., & Astuti, I. W. (2021). EFL Students' Perspective on the Use of Quizizz as Online Learning Media During COVID-19 Pandemic. Studies in Learning and Teaching, 2(2), 59-68. https://doi.org/10.46627/silet.v2i2.76
Dudovskiy, J. (2018). The ultimate guide to writing a dissertation in business studies: A step by step assistance [eBook]. Published by research-methodology. Net.
Iftakhar, S. (2016). Google classroom: what works and how. Journal of Education and Social Sciences, 3(1), 12-18.
Islam, M. S. (2019). Bangladeshi university students' perception about using Google classroom for teaching English. Psycho-Educational Research Reviews, 8(2), 57-65.
Kristiani, T., Sudiyanto, & Usodo, B. (2022). Exploration of the Use of Quizizz Gamification Application: Teacher Perspective. International Journal of Elementary Education, 6(2), 205–212. https://doi.org/10.23887/ijee.v6i2.43481
Lim, T.M.; Yunus, M.M.Teachers' Perception towards the Use of Quizizz in the Teaching and Learning of English: A Systematic Review. Sustainability 2021, 13, 6436. https://doi.org/10.3390/su13116436
Mulyadi, E., Naniwarsih, A., Omolu, F. A., Manangkari, I., & Amiati, D. R. (2021, August). The Application of Padlet in Teaching and Learning of Writing Recount Text at Senior High School in Palu City. In AECon 2020: Proceedings of The 6th Asia-Pacific Education And Science Conference, AECon 2020, 19-20 December 2020, Purwokerto, Indonesia (p. 446). European Alliance for Innovation.
Munuyandi, T., Husain, S., Abdul Jabar, M., & Jusoh, Z. (2021). Effectiveness Of Quizizz in Interactive Teaching and Learning Malay Grammar. Asian Journal Of University Education, 17(3), 109-118. https://doi.org/10.24191/ajue.v17i3.14516
Ni, L. B. (2020). Blended Learning through Google Classroom. International Journal of Educational and Pedagogical Sciences, 14(4), 215-221.
Singh, C. K. S., Singh, T. S. M., Abdullah, N. Y., Moneyam, S., Ismail, M. R., Tek, E., ... & Singh, J. K. S. (2020). Rethinking English language teaching through telegram, whatsapp, google classroom and zoom. Systematic Reviews in Pharmacy, 11(11), 45-54.
Sullivan R, Neu V, Yang F. (2018) Faculty development to promote effective instructional technology integration: A qualitative examination of reflections in an online community. Online Learning, 22(4), 341–359. https://doi.org/10.24059/olj.v22i4.1373
Sukmawati, S., & Nensia, N. (June 30, 2019). The Role of Google Classroom in ELT. International Journal for Educational and Vocational Studies, 1(2). https://doi.org/10.29103/ijevs.v1i2.1526
Yan, L., Whitelock‐Wainwright, A., Guan, Q., Wen, G., Gašević, D., & Chen, G. (2021, May 4). Students' experience of online learning during the COVID‐19 pandemic: A province‐wide survey study. British Journal of Educational Technology, 52(5), 2038–2057. https://doi.org/10.1111/bjet.13102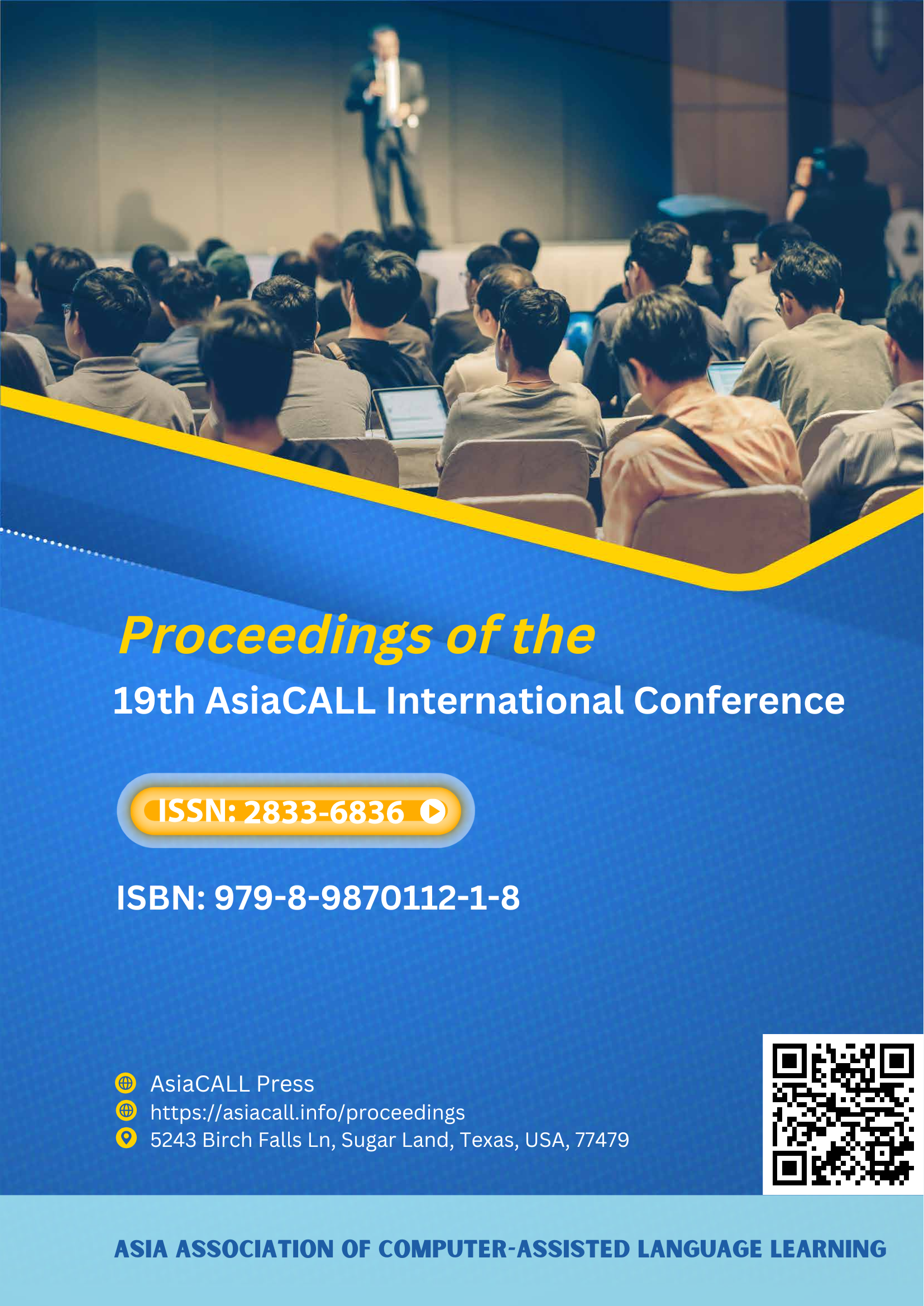 Downloads
How to Cite
Tran, Y. V., Phu, T. N., Le, T. H., & Duong, T. T. L. (2022). Evaluating Online Applications in Teaching and Learning English for Mechanical Engineering Students at Hanoi University of Industry during COVID-19 Period. Proceedings of the AsiaCALL International Conference, 1, 63–78. https://doi.org/10.54855/paic.2214
License
Copyright (c) 2022 Tran Yen Van, Phu Thi Nhung, Le Thu Huong, Duong Thi Thuy Linh
This work is licensed under a Creative Commons Attribution 4.0 International License.
Copyright
The copyright of all articles published in the Proceedings of the AsiaCALL International Conference (paic) remains with the Authors, i.e. Authors retain full ownership of their article. Permitted third-party reuse of the open access articles is defined by the applicable Creative Commons (CC) end-user license which is accepted by the Authors upon submission of their paper. All articles in the aicp are published under the CC BY-NC 4.0 license, meaning that end users can freely share an article (i.e. copy and redistribute the material in any medium or format) and adapt it (i.e. remix, transform and build upon the material) on the condition that proper attribution is given (i.e. appropriate credit, a link to the applicable license and an indication if any changes were made; all in such a way that does not suggest that the licensor endorses the user or the use) and the material is only used for non-commercial purposes.