Developing Vietnamese Listening - Speaking Skills
for First Grade Chinese Pupils in District 5, Ho Chi Minh City During Covid 19 Pandemic Period
Keywords:
Vietnamese; Listening-speaking skills; first-grade Chinese pupils; 1st-grade Chinese pupils in District 5; Ho Chi Minh City
Abstract
Topic "Developing Vietnamese listening - speaking skills for first-grade Chinese pupils in District 5, Ho Chi Minh City during Covid 19 pandemic period" is a necessary topic that is researched to improve Vietnamese competency to Chinese pupils in Vietnam nowadays. In this article, we use the method of surveying, listing results in listening - speaking of first-grade Chinese pupils who are living in District 5, Ho Chi Minh City. We enumerate, describe, analyze and synthesize results, cultural conditions and characteristics that are expressed in these pupils' ability in Vietnamese listening - speaking. Since then, we have given some suggestions about appropriate teaching and learning methods for these pupils with suitable content in the teacher's plan to improve their Vietnamese competency during the Covid 19 pandemic period in Vietnam.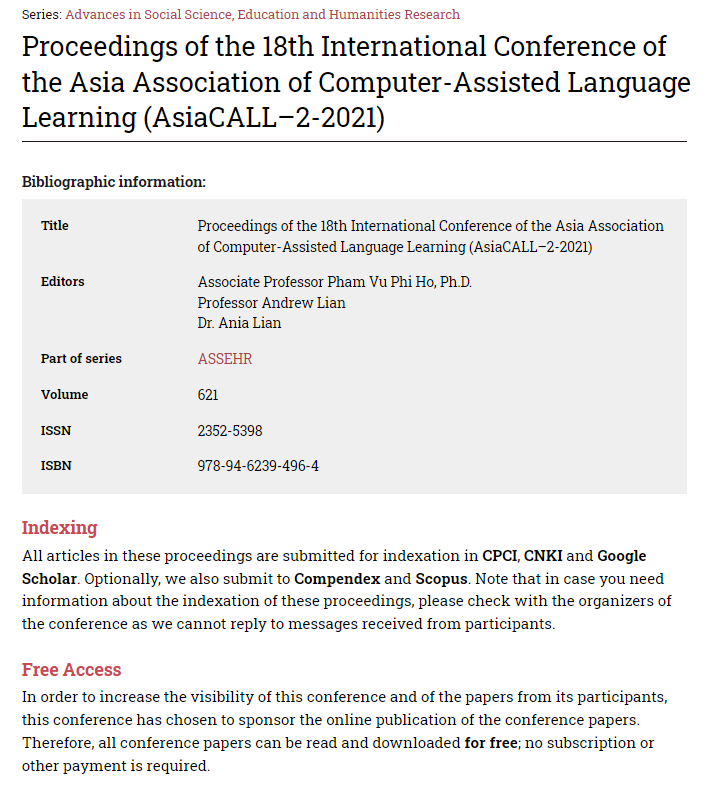 Downloads
How to Cite
Tran, T. K. T. (2021). Developing Vietnamese Listening - Speaking Skills: for First Grade Chinese Pupils in District 5, Ho Chi Minh City During Covid 19 Pandemic Period. Proceedings of the AsiaCALL International Conference, 621, 40–45. https://doi.org/10.2991/assehr.k.211224.005
License
Copyright (c) 2022 Tran thi Kim Tuyen
This work is licensed under a Creative Commons Attribution 4.0 International License.
Copyright
The copyright of all articles published in the Proceedings of the AsiaCALL International Conference (paic) remains with the Authors, i.e. Authors retain full ownership of their article. Permitted third-party reuse of the open access articles is defined by the applicable Creative Commons (CC) end-user license which is accepted by the Authors upon submission of their paper. All articles in the aicp are published under the CC BY-NC 4.0 license, meaning that end users can freely share an article (i.e. copy and redistribute the material in any medium or format) and adapt it (i.e. remix, transform and build upon the material) on the condition that proper attribution is given (i.e. appropriate credit, a link to the applicable license and an indication if any changes were made; all in such a way that does not suggest that the licensor endorses the user or the use) and the material is only used for non-commercial purposes.