Language-majored students' perception of Blended learning at a university in Vietnam
Keywords:
Blended learning, Perception, Language-majored students, A University in Vietnam
Abstract
Blended Learning (BL) has gained its prevalence in EFL teaching and learning context in Vietnamese higher education. This study aims to investigate language-majored students' perceptions of implementing Blended Learning in English classrooms at a Vietnamese public university. One hundred fifty-three freshmen majoring in Chinese, Korean and Japanese languages and currently learning English as a compulsory subject participated in this multi-method study. Data were collected through questionnaires and semi-structured interviews with six randomly selected students, then transcribed and analyzed thematically. Findings indicate that participants mostly perceive that BL enhances digital literacy and motivation and supports in-class learning. However, some challenges faced by these respondents included technical difficulties and the lack of self-regulation skills. The findings are of great value in giving educators and students a profound understanding of BL in EFL classrooms. Based on the findings and discussion, the study gave some recommendations for EFL teachers and institutions to facilitate students' BL experience greatly.
References
Alebaikan, R. A. (2010). Perceptions of blended learning in Saudi universities. ORE Open Research Exeter, Ph.D. Thesis in Education, University of Exeter. http://hdl.handle.net/10036/117486
Bath, D., & Bourke, J. (2011). The blending of blended learning: An experiential approach to academic staff development. In ASCILITE (pp. 4-7).
Chew, E. (2009). A blended learning model in higher education: A comparative study of blended learning in UK and Malaysia. University of South Wales (United Kingdom).
Cohen, L., Manion, L., & Morrison, K. (2018). Research methods in education (eight edition). Abingdon, Oxon.
Darmuh, M. M., & Akib, E. (2017). The students'perception toward the implementation of peer feedback receiver in debate subject. Leksika: Jurnal Bahasa, Sastra dan Pengajarannya, 11(2), 6.
Dennis, N. K. (2013). Integration of a blended e-learning application for teaching English at a local university in Thailand. AsiaCALL Online Journal, 7(1). Retrieved from https://asiacall.info/acoj/index.php/journal/article/view/132
Hinkelman, D., & Gruba, P. (2012). Power within blended language learning programs in Japan. Language Learning & Technology, 16(2), 46-64.
Hofstede, G. (2010). The GLOBE debate: Back to relevance. Journal of international business studies, 41(8), 1339-1346.
Irum, S., Bhatti, T., Abbasi, W. A., & Dilshad, M. (2020). Blended learning: Innovative challenge faced by students at university level in Pakistan. Indian Journal of Science and Technology13, 42, 4386-4395. 10.17485/IJST/v13i42.1212
Launer, R. (2010, August). Five assumptions on blended learning: What is important to make blended learning a successful concept?. In International Conference on Hybrid Learning (pp. 9-15). Springer, Berlin, Heidelberg.
Moskal, P. D., & Cavanagh, T. B. (2013). Scaling blended learning evaluation beyond the university. In Blended Learning (pp. 34-51). Routledge.
Mu'ayyadah, K., & Sahiruddin, S. (2020). Blended online learning culture in an Indonesian tertiary education during COVID-19 pandemic. Studi Budaya Nusantara, 4(2), 133-143.
Namyssova, G., Tussupbekova, G., Helmer, J., Malone, K., Afzal, M., & Jonbekova. D. (2019). Challenges and benefits of blended learning in higher education. International Journal of Technology in Education (IJTE), 2(1), 22-31. https://files.eric.ed.gov/fulltext/EJ1264247.pdf
Neumeier, P. (2005). A closer look at blended learning—parameters for designing a blended learning environment for language teaching and learning. ReCALL, 17(2), 163-178.
Nguyen, T. D., Nguyen, D. T., & Cao, T. H. (2014, April). Acceptance and use of information system: E-learning based on cloud computing in Vietnam. In Information and Communication Technology-EurAsia Conference (pp. 139-149). Springer, Berlin, Heidelberg.
Porter, W. W., Graham, C. R., Spring, K. A., & Welch, K. R. (2014). Blended learning in higher education: Institutional adoption and implementation. Computers & Education, 75, 185-195.
Reinders, H. (Ed.). (2012). Digital games in language learning and teaching. Basingstoke: Palgrave Macmillan.
Santosh, B.K. 2013. Different forms of Blended Learning in Classroom. http://edtechreview.in/trends-insights/trends/562-different-formsofblended-learning-in-classroom?start=12 (Accessed on February, 8th 2017).
Talis, S. S. N., Akib, E., & Baso, F. A. (2018). The students' perception toward implementing blended learning method in English Language Teaching (ELT) at the 5th semester students of English Education Department (a descriptive qualitative research). Jurnal Keguruan Dan Ilmu Pendidikan (JKIP), 5(1), 37-51.
Tashakkori, A., Teddlie, C., & Sines, M. C. (2012). Utilizing mixed methods in psychological research. Handbook of psychology, 2, 428-450.
Teik, O. C. . (2016). Open distance learning: Delivering linguistics and education courses in a blended learning environment. AsiaCALL Online Journal, 11(1), A1-17. Retrieved from https://asiacall.info/acoj/index.php/journal/article/view/13
Tran Duc, N., & Williamson, J. C. (2009). Evaluation of teaching: hidden assumptions about conception of teaching. In 2nd International Conference of Teaching and Learning (Vol. 1, p. 1).
Vu, C.T.M., Nguyen, V.Q. & Lin, C.C. (2011). Student E-learning Acceptance of Join Academic Graduate Programs in a Developing Country. In Proceedings of Global Learn Asia Pacific 2011-Global Conference on Learning and Technology (pp. 938-948). S. Barton, J. Hedberg & K. Suzuki (Eds.)
Yen, P. H., Hien, H. M., & Huyen, H. C. M. (2019). Students' perceptions of a blended learning environment for English training at a university in Vietnam. Can Tho University Journal of Science, 11(3), 57-64. http://10.22144/ctu.jen.2019.039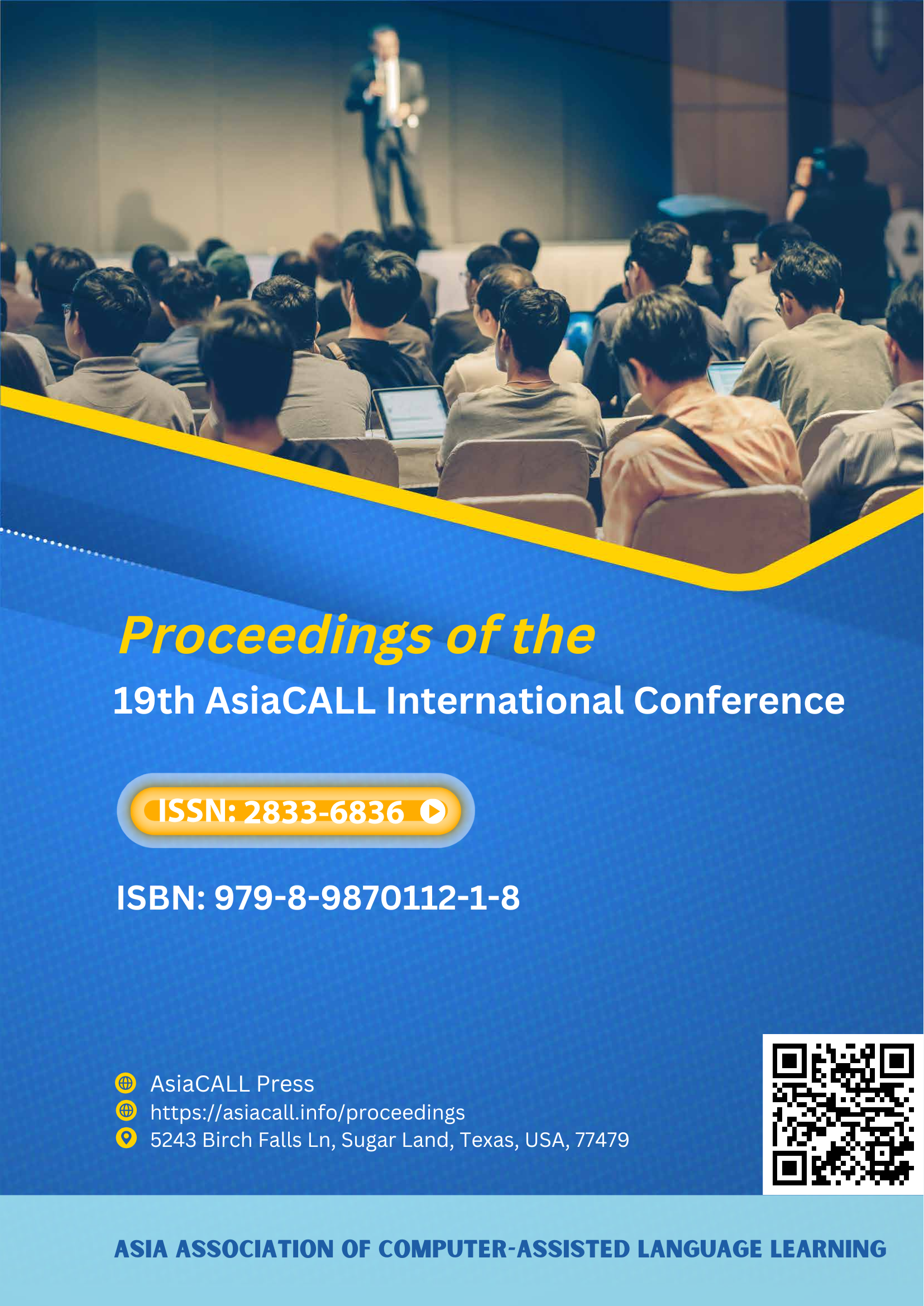 Downloads
How to Cite
Tran, L. A., Tran, T. D., Nguyen, M. H., & Nguyen, M. N. (2023). Language-majored students' perception of Blended learning at a university in Vietnam. Proceedings of the AsiaCALL International Conference, 1, 104–114. https://doi.org/10.54855/paic.2217
License
Copyright (c) 2022 Tran Lan Anh, Tran Thi Dung, Nguyen Minh Ha, Nguyen Minh Ngoc
This work is licensed under a Creative Commons Attribution 4.0 International License.
Copyright
The copyright of all articles published in the Proceedings of the AsiaCALL International Conference (aicp) remains with the Authors, i.e. Authors retain full ownership of their article. Permitted third-party reuse of the open access articles is defined by the applicable Creative Commons (CC) end-user license which is accepted by the Authors upon submission of their paper. All articles in the aicp are published under the CC BY-NC 4.0 license, meaning that end users can freely share an article (i.e. copy and redistribute the material in any medium or format) and adapt it (i.e. remix, transform and build upon the material) on the condition that proper attribution is given (i.e. appropriate credit, a link to the applicable license and an indication if any changes were made; all in such a way that does not suggest that the licensor endorses the user or the use) and the material is only used for non-commercial purposes.