Cooperative Learning in EFL Reading Classes at Lam Dong Ethnic Minority Boarding School
Keywords:
cooperative learning; extended reading; attitude; foreign language; ethnic minority
Abstract
In teaching reading, teachers might place emphasis on Cooperative Learning (CL) as an effective instructional method in which students of the different levels might cooperate with each other in groups to achieve a common goal. This research paper aims at investigating the CL's with respect to Vietnamese learners of English in reading comprehension at Lam Dong Ethnic Minority Boarding school and investigating students' attitudes towards cooperative learning. A quasi-experiment was conducted over a period of eight weeks. Sixty-one ethnic minority students in Grade 11 at Lam Dong Ethnic Minority Boarding school took part in this research. The research participants were divided into two groups: control and experimental groups. For the control group, lecture-based teaching was used as usual activities in-class time, while for the experimental group, CL was employed. After analyzing, another standardized post-test was conducted. Later, the authors applied the Independent sample t-test and paired sample t-test to examine whether there existed differences in reading comprehension between inter-and intra-group. The results showed that the students in the experimental group achieved a more remarkable improvement than their counterparts with respect to English reading performance. The findings also revealed that the students with the experimental CL method expressed highly positive attitudes towards the use of CL in reading classes. Further research could be carried out to explore the other CL's effects in language teaching and learning.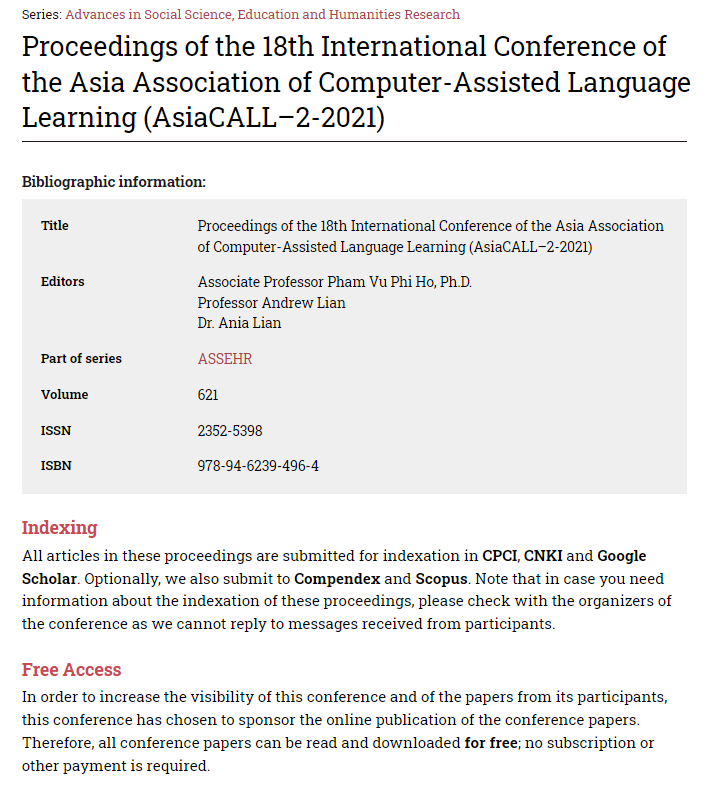 Downloads
How to Cite
Nguyen, T. hoai H. (2021). Cooperative Learning in EFL Reading Classes at Lam Dong Ethnic Minority Boarding School. Proceedings of the AsiaCALL International Conference, 621, 84–96. https://doi.org/10.2991/assehr.k.211224.010
License
Copyright (c) 2022 Nguyen Thi Hoai Huong, Nguyen Tat Thang, Tran Tin Nghi, Nguyen Phan Nhat Nguyen
This work is licensed under a Creative Commons Attribution 4.0 International License.
Copyright
The copyright of all articles published in the Proceedings of the AsiaCALL International Conference (aicp) remains with the Authors, i.e. Authors retain full ownership of their article. Permitted third-party reuse of the open access articles is defined by the applicable Creative Commons (CC) end-user license which is accepted by the Authors upon submission of their paper. All articles in the aicp are published under the CC BY-NC 4.0 license, meaning that end users can freely share an article (i.e. copy and redistribute the material in any medium or format) and adapt it (i.e. remix, transform and build upon the material) on the condition that proper attribution is given (i.e. appropriate credit, a link to the applicable license and an indication if any changes were made; all in such a way that does not suggest that the licensor endorses the user or the use) and the material is only used for non-commercial purposes.