The research of implementing the computer-supported collaborative learning environment with Google Slides
Keywords:
Google Slides, CSCL, Collaborative Learning
Abstract
The purpose of his study is to use Google Slides in the collaborative editing software to explore whether it is helpful to implement collaborative learning in teaching college students. This study applied a quantitative research method; 200 undergraduate students who are Chinese majors at Hanoi Pedagogical University 2 will randomly select as participants. After developing the CSCL environment, in which classroom experiments were conducted, the scale was developed to investigate and use SPSS to analyze various possible influences on learning motivation. In addition to collecting and analyzing quantitative data, research, and discussion were carried out by observing the reactions and performance of students in class. Through literature research, investigate various independent variables that may affect learning motivation. This research analyzed with non-numerical statistical methods to explore learning achievement, learning anxiety, and learning attitude, and discuss whether independent variables such as self-efficacy will have an impact on learning motivation to evaluate the feasibility of Google Presentation as computer-assisted collaborative learning. The findings from the quantitative analysis show that students are highly motivated to use Google Slides to implement computer-assisted collaborative learning and are not affected by learning achievement, learning anxiety, learning attitude, and self-efficacy in discussions.
References
Ansari, J. A. N., & Khan, N. A. (2020). Exploring the role of social media in collaborative learning the new domain of learning. Smart Learning Environments, 7(1), 1-16.
Carson, C. H. (2006). The relationship between hypermedia producers' preferred learning styles and the motivational aspects of their productions. Journal of education for library and information science, 106-126.
Chang, Y. H., Yan, Y. C., & Lu, Y. T. (2022). Effects of Combining Different Collaborative Learning Strategies with Problem-Based Learning in a Flipped Classroom on Program Language Learning. Sustainability, 14(9), 52-82.
Ee, J. & Chang, A. (2010). How Resilient are our Graduate Trainee Teachers in Singapore?, The Asia-Pacific Education Researcher, 19(2), 321-331.
Fan, Q., Fan, D. P., Fu, H., Tang, C. K., Shao, L., & Tai, Y. W. (2021). Group collaborative learning for co-salient object detection. In Proceedings of the IEEE/CVF Conference on Computer Vision and Pattern Recognition (pp. 12288-12298).
Kuo, Y. (2013). Research the effect on learning interest and learning outcomes by using Windows Live cloud cooperative learning: on 7th grade mathematics courses as an example, National Digital Library. Retrieved from: Taiwan Ph.D. and Master Thesis Value-Added System: https://hdl.handle.net/11296/e34f62
Liu, Y., Fan, T., Chen, T., Xu, Q., & Yang, Q. (2021). Fate: An industrial grade platform for collaborative learning with data protection. The Journal of Machine Learning Research, 22(1), 10320-10325.
Santoni, M. J., Kashyap, R., Camoin, L., & Borg, J. P. (2020). The Scribble family in cancer: twentieth anniversary. Oncogene, 39(47), 7019-7033.
Sato, M. (2012). A revolution in learning: a reform starting from the classroom. Commonwealth education., (pp. 3-13).
Stahl, G., Koschmann, T., & Suthers, D.D. (2006). Computer-supported collaborative learning: An historical perspective. Retrieved from: http://gerrystahl.net/cscl/CSCL_English.pdf.
Teik, O. C. (2016). Open distance learning: Delivering linguistics and education courses in a blended learning environment. AsiaCALL Online Journal, 11(1), A1-17. Retrieved from https://www.asiacall.info/acoj/index.php/journal/article/view/13
Tran, L. A., Tran, T. D., Nguyen, M. H., & Nguyen, M. N. (2023). Language-majored students' perception of Blended learning at a university in Vietnam. Proceedings of the AsiaCALL International Conference, 1, 104–114. https://doi.org/10.54855/paic.2217
Yan, Y., Hu, X., Ke, T. (2011). A study on the effect of digital learning attention on learning outcomes. T&D Fetion, 112(21).
Zhaojie, Y. (2014). Talking about the "learning community" of Sato school. Taiwan Education Review Monthly, 5(3), 122-125.
Zimmerman, B. J., Bandura, A., & Martinez-Pons, M. (1992). Self-motivation for academic attainment: The role of self-efficacy beliefs and personal goal setting. American Educational Research Journal, 29(3), 663–676. https://doi.org/10.2307/1163261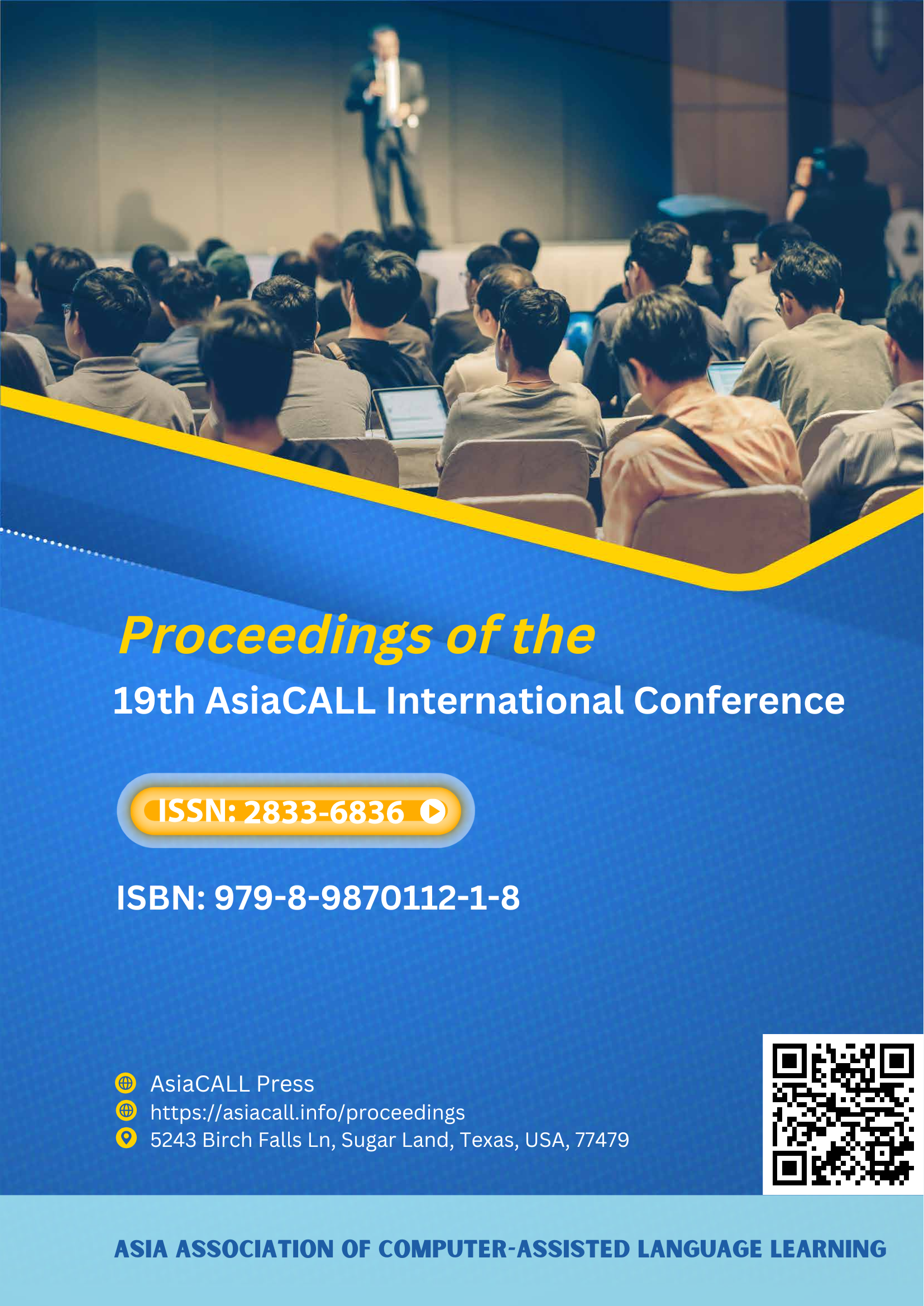 Downloads
How to Cite
Dinh, B. T., & Pham, T. N. V. (2023). The research of implementing the computer-supported collaborative learning environment with Google Slides. Proceedings of the AsiaCALL International Conference, 1, 152–162. https://doi.org/10.54855/paic.23110
License
Copyright (c) 2022 Dinh Bich Thao, Pham Thi Nghia Van
This work is licensed under a Creative Commons Attribution 4.0 International License.
Copyright
The copyright of all articles published in the Proceedings of the AsiaCALL International Conference (paic) remains with the Authors, i.e. Authors retain full ownership of their article. Permitted third-party reuse of the open access articles is defined by the applicable Creative Commons (CC) end-user license which is accepted by the Authors upon submission of their paper. All articles in the aicp are published under the CC BY-NC 4.0 license, meaning that end users can freely share an article (i.e. copy and redistribute the material in any medium or format) and adapt it (i.e. remix, transform and build upon the material) on the condition that proper attribution is given (i.e. appropriate credit, a link to the applicable license and an indication if any changes were made; all in such a way that does not suggest that the licensor endorses the user or the use) and the material is only used for non-commercial purposes.