Teaching the Narrative Essay: Embedding the Elements of Fiction
Keywords:
Literature and language learning; elements of fiction; the narrative essay; teaching writing
Abstract
The narrative essay belongs to chronological order, a way of organizing ideas regarding their occurrence in time. As a result, it requires a different set of writing skills from other types of essays: it is built out of sequential events of the narrative, not main ideas and supporting details. However, it is realized that the two writing coursebooks, Reason to Write (Intermediate) by Oxford (2005) and Great Writing 4 by Heinle Cengage Learning (2014), construct relatively vague guidance for students to build a narrative essay accordingly. This action research is, therefore, to bridge that gap, suggesting a literary approach to teaching that essay: embedding elements of fiction in the process. In this paper, the benefits of the method are discussed in terms of students' language, organizational, and critical thinking skills. The findings from the students' essays and surveys prove positive, from which insights are then taken into consideration. The implications of the method are that there exist opportunities and possibilities for applying literary theories into English teaching and learning.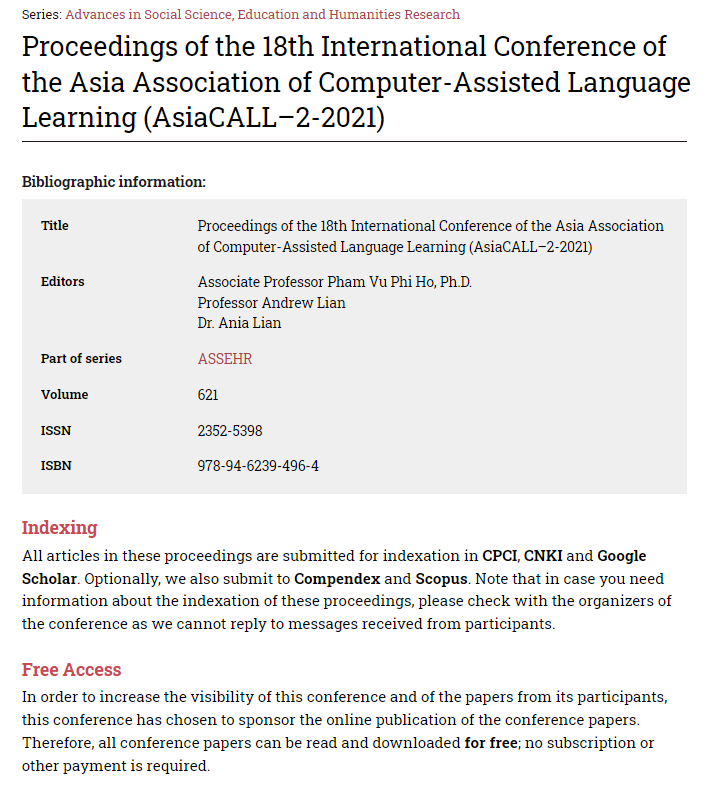 Downloads
How to Cite
Pham, T. H. A. (2021). Teaching the Narrative Essay: Embedding the Elements of Fiction. Proceedings of the AsiaCALL International Conference, 621, 27–39. https://doi.org/10.2991/assehr.k.211224.004
License
Copyright (c) 2022 Pham Thi Hong An
This work is licensed under a Creative Commons Attribution 4.0 International License.
Copyright
The copyright of all articles published in the Proceedings of the AsiaCALL International Conference (paic) remains with the Authors, i.e. Authors retain full ownership of their article. Permitted third-party reuse of the open access articles is defined by the applicable Creative Commons (CC) end-user license which is accepted by the Authors upon submission of their paper. All articles in the aicp are published under the CC BY-NC 4.0 license, meaning that end users can freely share an article (i.e. copy and redistribute the material in any medium or format) and adapt it (i.e. remix, transform and build upon the material) on the condition that proper attribution is given (i.e. appropriate credit, a link to the applicable license and an indication if any changes were made; all in such a way that does not suggest that the licensor endorses the user or the use) and the material is only used for non-commercial purposes.