Using Word Games to Improve Vocabulary Retention in Middle School EFL Classes
Keywords:
Word Game; Vocabulary Retention; Constructivism; Middle School EFL Classes
Abstract
Vocabulary learning is one of the most challenging aspects of learning a foreign language, especially vocabulary retention at the beginner level. There are currently a number of lexical instruction strategies available, but their use in the Vietnamese EFL context is still limited. Therefore, the appropriateness and efficacy of incorporating word games into English lexical instruction at a middle school in South Vietnam were investigated in this report. Mixed method research was conducted on two classes in grade 7 for eight weeks in order to measure the efficacy of using games in the selected school. Two classes (experimental and control) with 64 students whose English proficiency is more or less the same based on preliminary test scores learned the same vocabulary lessons—the formerly used games to learn vocabulary, while the latter used the conventional approach. Pretests, posttests, questionnaires, and interviews were used to collect the data. The experimental group's increase in vocabulary retention was statistically better than the other in the post-test findings after eight weeks of treatment. Furthermore, qualitative analysis revealed that the experimental group participants found word games to be inspiring, fun, and efficient. This paper concludes that using games to teach vocabulary has proven to be a viable method for English teaching and learning in middle school EFL classes. Learners had more chances to be exposed to the target language in a fun and comfortable learning atmosphere by playing word games and improved their ability to acquire and maintain vocabulary.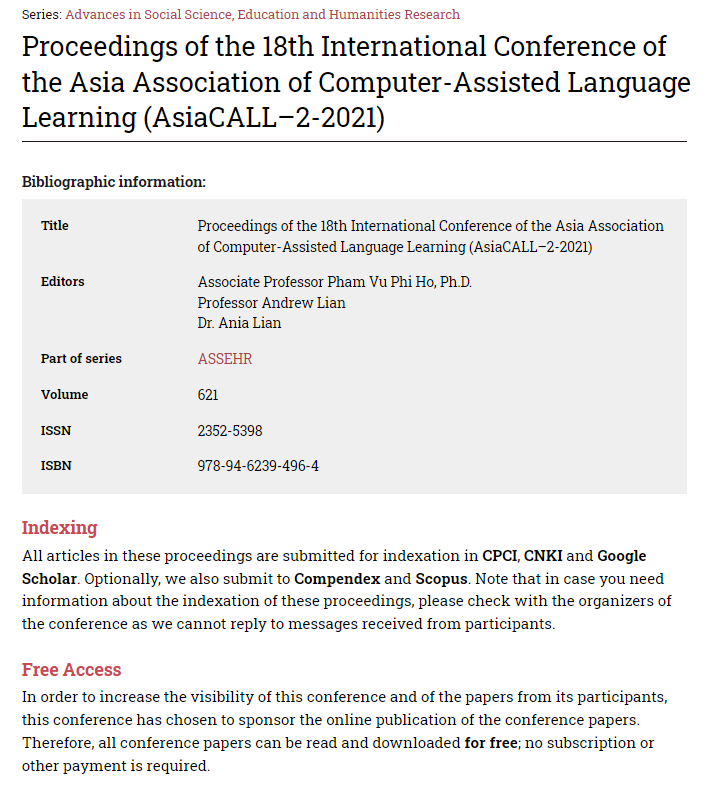 Downloads
How to Cite
Nguyen, N. V. (2021). Using Word Games to Improve Vocabulary Retention in Middle School EFL Classes. Proceedings of the AsiaCALL International Conference, 621, 97–108. https://doi.org/10.2991/assehr.k.211224.011
License
Copyright (c) 2022 Nguyen Ngoc Vu, Phan Thi My Linh, Nguyen Thi Hong Lien, Nguyen Thi Thu Van
This work is licensed under a Creative Commons Attribution 4.0 International License.
Copyright
The copyright of all articles published in the Proceedings of the AsiaCALL International Conference (aicp) remains with the Authors, i.e. Authors retain full ownership of their article. Permitted third-party reuse of the open access articles is defined by the applicable Creative Commons (CC) end-user license which is accepted by the Authors upon submission of their paper. All articles in the aicp are published under the CC BY-NC 4.0 license, meaning that end users can freely share an article (i.e. copy and redistribute the material in any medium or format) and adapt it (i.e. remix, transform and build upon the material) on the condition that proper attribution is given (i.e. appropriate credit, a link to the applicable license and an indication if any changes were made; all in such a way that does not suggest that the licensor endorses the user or the use) and the material is only used for non-commercial purposes.