Blended Online EFL Activities in MOODLE for Higher Education
Students' Perceptions and Performance Impact
Keywords:
Blended learning; EFL writing; Moodle; Computer-Assisted Language Learning
Abstract
A blended learning environment is becoming more and more important in all subject areas, especially language education. This study is conducted to investigate the effects of blended EFL writing activities on students' perceptions and writing performance. This study employs both quantitative and qualitative research methods. An experiment (n=40) was conducted with two groups of English majors having the same curriculum, course-book, facilities for 15 weeks. The experimental group takes weekly writing activities online while the control group does not. After the experiment, the experiment group was surveyed (n=20) and interviewed (n=12). Independent samples T-tests show that the experimental group doing their writing activities in a blended environment performs better than the control group doing those activities on paper. The questionnaire and interview data further confirm that students have positive perceptions of EFL writing activities in blended classes. It is suggested that EFL students should be given online writing activities blended with their traditional sessions. Designing interesting writing tasks, providing good topics for discussion, creating a more interactive online environment that boosts collaborative learning are good ways to motivate students and improve student performance.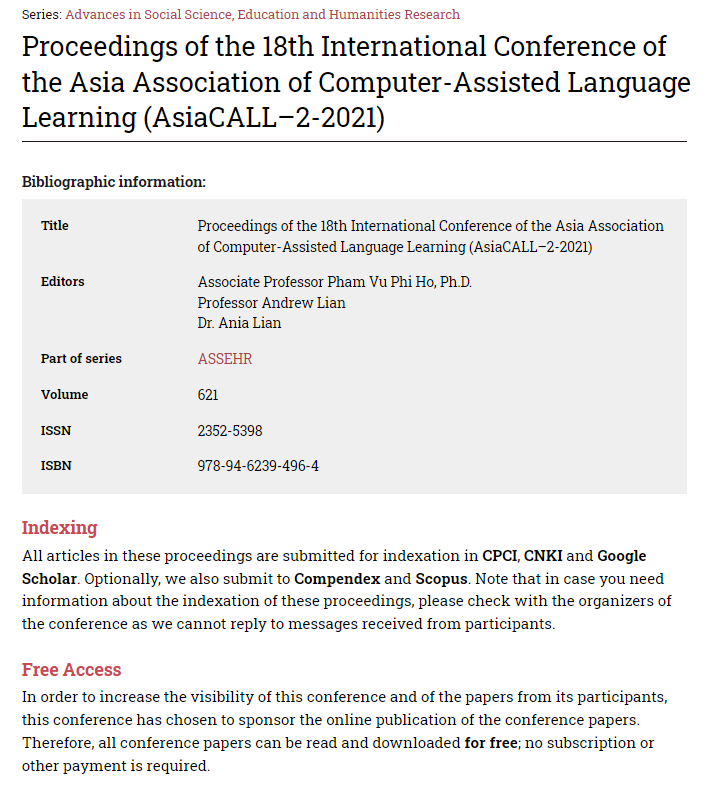 Downloads
How to Cite
Nguyen, N. V. (2021). Blended Online EFL Activities in MOODLE for Higher Education: Students' Perceptions and Performance Impact. Proceedings of the AsiaCALL International Conference, 621, 145–156. https://doi.org/10.2991/assehr.k.211224.015
License
Copyright (c) 2022 Nguyen Ngoc Vu, Vo Thi Minh Due, Nguyen The Luong, Nguyen Thi Hong Lien
This work is licensed under a Creative Commons Attribution 4.0 International License.
Copyright
The copyright of all articles published in the Proceedings of the AsiaCALL International Conference (aicp) remains with the Authors, i.e. Authors retain full ownership of their article. Permitted third-party reuse of the open access articles is defined by the applicable Creative Commons (CC) end-user license which is accepted by the Authors upon submission of their paper. All articles in the aicp are published under the CC BY-NC 4.0 license, meaning that end users can freely share an article (i.e. copy and redistribute the material in any medium or format) and adapt it (i.e. remix, transform and build upon the material) on the condition that proper attribution is given (i.e. appropriate credit, a link to the applicable license and an indication if any changes were made; all in such a way that does not suggest that the licensor endorses the user or the use) and the material is only used for non-commercial purposes.