Readiness, Preparation, and Effectiveness of Online Teaching and Learning in Vietnam Tertiary Education
Keywords:
COVID-19 Pandemic; students' readiness; online learning and teaching; Resources Readiness; Strategies Readiness
Abstract
This study aims at examining whether university students are ready to transform and adapt to the emergence of online teaching and learning, which serves as a response to the Covid-19 pandemic. The factors that usually influence students' ability to change their learning habits and adapt to these changes readily have usually been proposed from theoretical foundations. In this study, a quantitative method was conducted, with around 188 participants who were requested to complete an online survey with a seven-part questionnaire. Each part of the questionnaire was considered a factor affecting an ideally effective online teaching and learning model. The authors employed the Partial Least Squares (PLS) to analyze the data collected from the survey. The results indicated that Resources Readiness and Strategy Readiness played an important role in managing anxiety and were the main factors that affected online teaching and learning readiness. The pedagogical model was drawn from students' readiness and effectiveness during their online learning in comparison with their efforts. The results also showed that students enrolled in social and humanity courses like English language and linguistics were more resistant to online learning than those in engineering courses. The model with precise details of factors hopes to introduce universities and educational institutions when conducting their emergency online teaching and learning during the COVID-19 pandemic.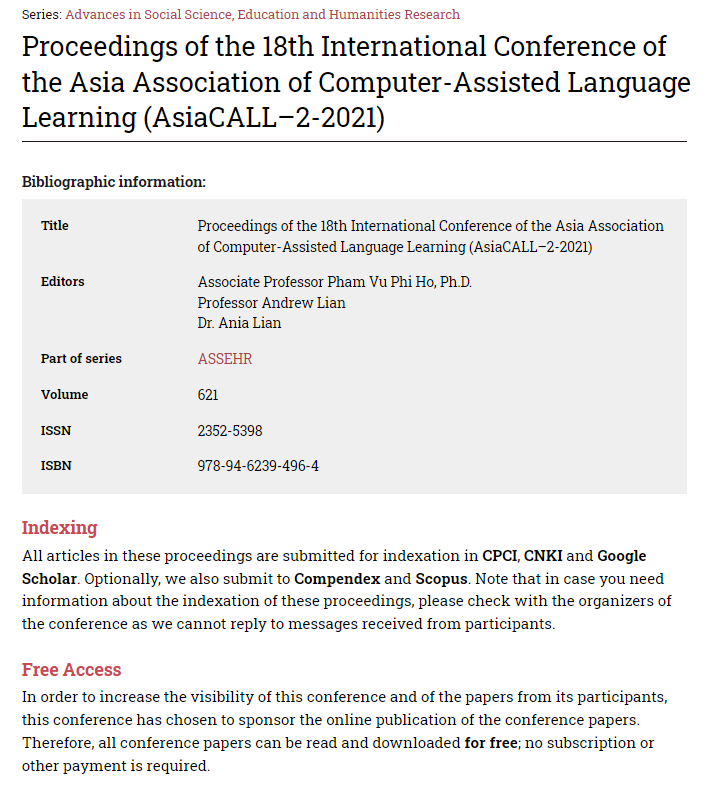 Downloads
How to Cite
Tran, T. N. (2021). Readiness, Preparation, and Effectiveness of Online Teaching and Learning in Vietnam Tertiary Education. Proceedings of the AsiaCALL International Conference, 621, 157–167. https://doi.org/10.2991/assehr.k.211224.016
License
Copyright (c) 2022 Nghi Tran Tin, Thang Nguyen Tat, Phuc Tran Huu, Vu Nguyen Mau
This work is licensed under a Creative Commons Attribution 4.0 International License.
Copyright
The copyright of all articles published in the Proceedings of the AsiaCALL International Conference (aicp) remains with the Authors, i.e. Authors retain full ownership of their article. Permitted third-party reuse of the open access articles is defined by the applicable Creative Commons (CC) end-user license which is accepted by the Authors upon submission of their paper. All articles in the aicp are published under the CC BY-NC 4.0 license, meaning that end users can freely share an article (i.e. copy and redistribute the material in any medium or format) and adapt it (i.e. remix, transform and build upon the material) on the condition that proper attribution is given (i.e. appropriate credit, a link to the applicable license and an indication if any changes were made; all in such a way that does not suggest that the licensor endorses the user or the use) and the material is only used for non-commercial purposes.