Vietnamese EFL Students' Perception on Using Dictogloss in Listening and Note-taking Classes
Keywords:
dictogloss, listening, note-taking
Abstract
This study investigates the use of dictogloss to improve listening and note-taking skills for Vietnamese EFL learners. The study was conducted in two Listening AE1 classes at International University, VNU-HCMC, with 47 students over a period of 15 weeks. The dictogloss method involved the teacher reading a short text out loud and the students working in groups to recreate the text from week 2 to week 14. The study aimed to explore the effectiveness of the dictogloss method through the students' perception and performance. The results showed that there was a significant improvement in the listening and note-taking performance of the students. Moreover, the majority of students found the dictogloss method to be effective in improving their listening skills as well as enhancing their engagement with peers and teachers. However, some students reported experiencing stress and anxiety when using this method. The study suggests that dictogloss can be further studied and employed in the teaching of listening and note-taking skills classes.
References
Akib, M., & Saputra, D. (2019). Effects of the Dictogloss Method in Teaching Listening Skills to Students. Qalam: Jurnal Ilmu Kependidikan, 8(2), 69. https://doi.org/10.33506/jq.v8i2.769
Alawiyah, T., & Arrasyid, F. I. (2016). The effectiveness of Dictogloss Method on Listening Skill of Narrative Text at Tenth Grade Students of Ma Al Iman adiwerna tegal. ELT Echo : The Journal of English Language Teaching in Foreign Language Context, 1(1), 42-52. https://doi.org/10.24235/eltecho.v1i1.967
Asrobi, M., & Amni, K. (2017b). The use of Dictogloss in teaching listening comprehension for EFL learners. VELES Voices of English Language Education Society, 1(1), 61-70. https://doi.org/10.29408/veles.v1i1.394
Campos, M. (July 6, 2023). ESL Classroom activities: Dictogloss. EnglishPost. https://englishpost.org/dictogloss/#google_vignette.
Husseinali, G. (2013). Using Dictogloss to Advance Proficiency and Accuracy in Teaching Arabic. Dimension, 46–58. https://doi.org/https://files.eric.ed.gov/fulltext/EJ1211103.pdf
Kidd, R. (1992). Teaching ESL grammar through dictation. TESL Canada Journal, 10(1), 49-61.
Kooshafar, M., Youhanaee, M., & Amirian, Z. (2012). The effect of Dictogloss technique on learners' writing improvement in terms of writing coherent texts. Journal of Language Teaching and Research, 3(4), 716-721. https://doi.org/10.4304/jltr.3.4.716-721
Nabei, T. (1996). Dictogloss: Is It an Effective Language Learning Task?. Working Papers in Educational Linguistics, 12(1), 59-74
Minh Hai, N. T., & Hanh, L. D. (2020). Effects of dictogloss on Non-English majored undergraduates' listening comprehension. VNU Journal of Foreign Studies, 36(3), 70-81. https://doi.org/10.25073/2525-2445/vnufs.4557
Nguyen, M. T. H., & Tran, L. T. (2021). Using Dictogloss to enhance Listening Comprehension Skills for English Majors at Thai Nguyen University of Education. American Journal of Humanities and Social Sciences Research (AJHSSR), 5(5), 87–92. https://doi.org/https://www.ajhssr.com/wp-content/uploads/2021/05/L21558792.pdf
Nguyen, T. G. M. (2022). The Impacts of Lyrics Training on Improving Listening Skills for ESL Students. AsiaCALL Online Journal, 14(1), 18-29. DOI: https://doi.org/10.54855/acoj.231412
Nunan, D. (2010). Listening in Language Learning. In Richard & Renandya, Methodology in Language Teaching, pp.238-241. Cambridge University Press.
Ross, A., & Willson, V. L. (2018). Basic and advanced statistical tests writing results sections and creating tables and figures. Sense Publishers.
Ulum, Ö. G. (2015). Listening: The Ignored Skill in EFL Context. International Journal of Humanities Social Sciences and Education (IJHSSE), 2(5), 72–80. https://doi.org/https://files.eric.ed.gov/fulltext/ED577306.pdf
Vasiljevic, Z. (2010). Dictogloss as an interactive method of teaching listening comprehension to L2 learners. English Language Teaching, 3(1), 41-52. https://doi.org/10.5539/elt.v3n1p41
Vo, T. H. C, & Cao, T. M. H. (2022). Investigating the Effects of Mass Media on Learning Listening Skills. AsiaCALL Online Journal, 13(5), 45-67. https://doi.org/10.54855/acoj.221354
Wajnryb, R. (1997). Grammar Dictation: The Dictogloss Procedure as a Means to Explore and Shift Learners' Hypotheses about Language. The Japan Association for Language Teaching, 21(9). https://doi.org/https://jalt-publications.org/old_tlt/files/97/sep/wajnryb.html
Zhang, L. J., & Shen, Y. (2023). What two decades of research into L2 listening in system tells us: Looking back for looking forward. System, 112, 102970. https://doi.org/10.1016/j.system.2022.102970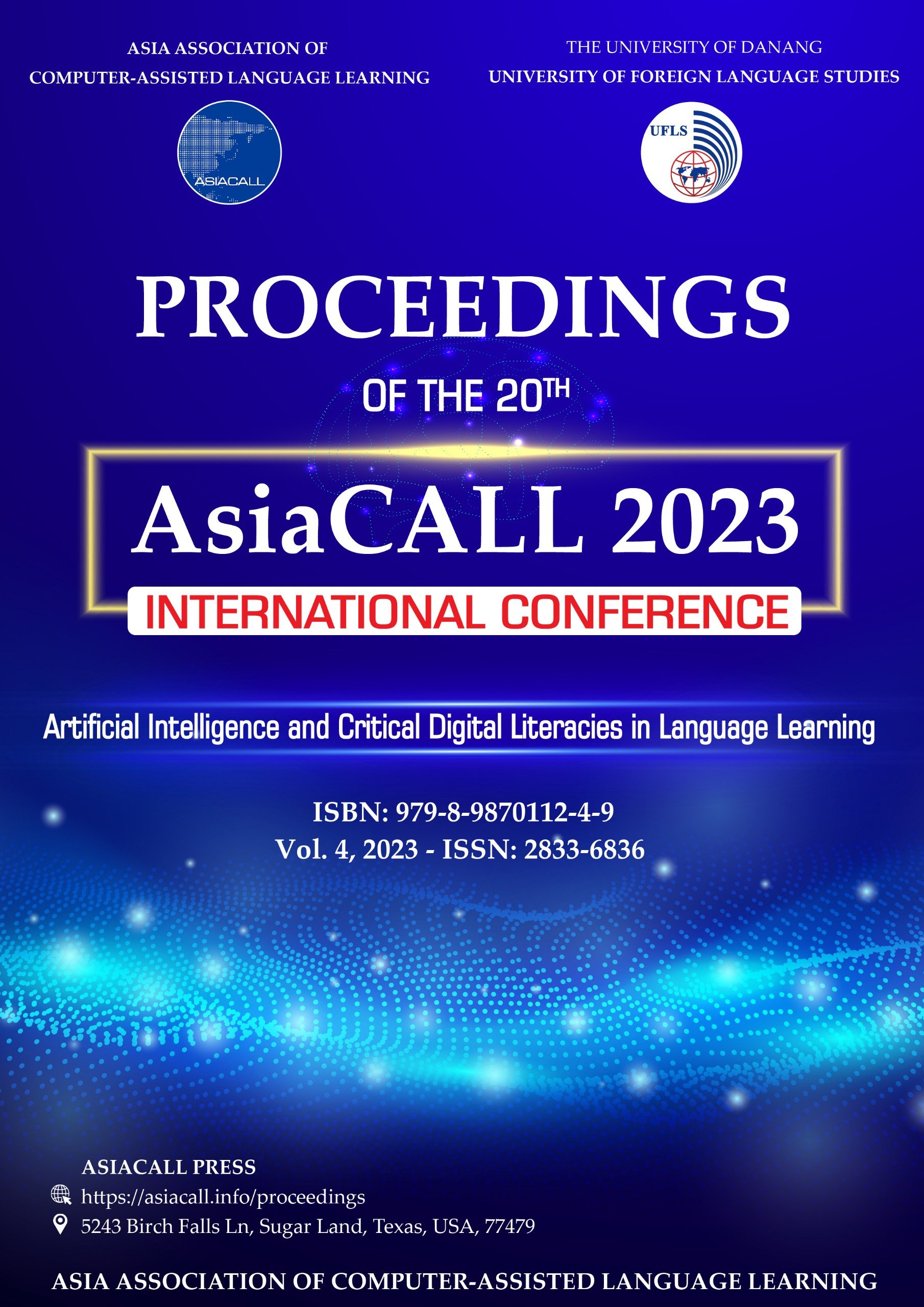 Downloads
How to Cite
Nguyen, L. B. N., & Nguyen, H. P. M. (2023). Vietnamese EFL Students' Perception on Using Dictogloss in Listening and Note-taking Classes. Proceedings of the AsiaCALL International Conference, 4, 35–44. https://doi.org/10.54855/paic.2343
License
Copyright (c) 2023 Nguyen Le Bao Ngoc, Nguyen Hoang Phuong Mai
This work is licensed under a Creative Commons Attribution 4.0 International License.
Copyright
The copyright of all articles published in the Proceedings of the AsiaCALL International Conference (paic) remains with the Authors, i.e. Authors retain full ownership of their article. Permitted third-party reuse of the open access articles is defined by the applicable Creative Commons (CC) end-user license which is accepted by the Authors upon submission of their paper. All articles in the aicp are published under the CC BY-NC 4.0 license, meaning that end users can freely share an article (i.e. copy and redistribute the material in any medium or format) and adapt it (i.e. remix, transform and build upon the material) on the condition that proper attribution is given (i.e. appropriate credit, a link to the applicable license and an indication if any changes were made; all in such a way that does not suggest that the licensor endorses the user or the use) and the material is only used for non-commercial purposes.