Coronateaching in a Palestinian University: Changes, Challenges, and New Conceptions
Keywords:
corona teaching; emergency remote teaching; e-learning; online learning
Abstract
This longitudinal qualitative case study comprised an investigation of the experiences, perceptions, and beliefs of five ELT teachers at a Palestinian University where government-mandated COVID-19 emergency closure forced an institution-wide implementation of emergency remote teaching. It is among the few research projects to date that encompass the entire first year of work in pandemic emergency conditions as viewed from the perspective of instructors working in a higher education ELT program. The research was framed within an interpretative, constructivist paradigm, with data collected by means of semi-structured interviews and interrogated via thematic analysis. Topics of interest included the challenges, benefits, drawbacks, and general processes associated with e-learning as experienced by teachers involved in the rapid deployment of online education at an institution with no history of offering such courses. The results indicate that teachers faced significant pedagogy shock along with an immediate need to reconsider and reconfigure their roles within the teaching space and teacher-student relationship. Findings highlight the need for dedicated institutional e-learning support infrastructures, both hard and soft, comprehensive technical training and general digital literacy development for teachers and students, specialized teacher education in digitally-mediated pedagogies, and effective awareness-raising campaigns directed at students' families and other community stakeholders.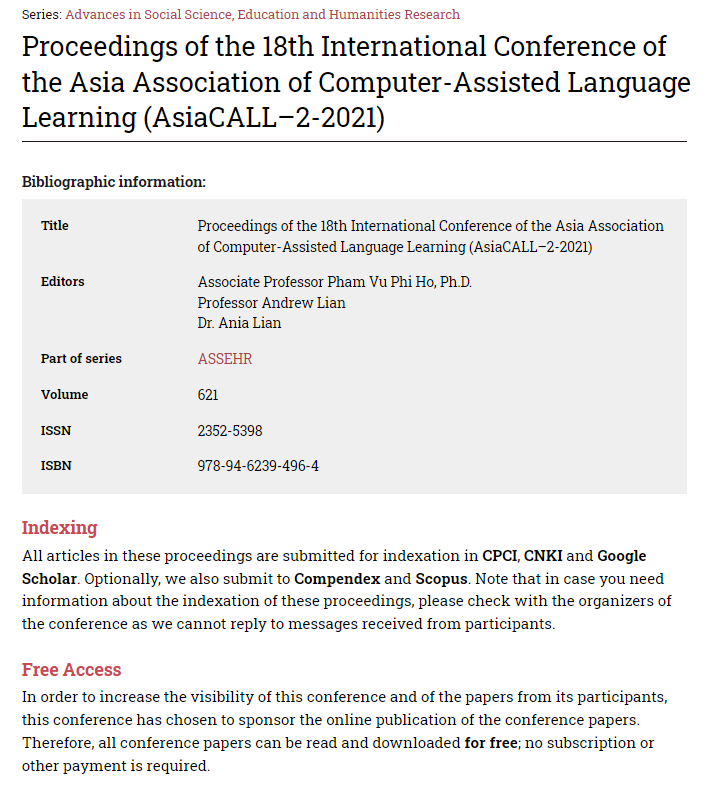 Downloads
How to Cite
Elhawa, H. A. (2021). Coronateaching in a Palestinian University: Changes, Challenges, and New Conceptions. Proceedings of the AsiaCALL International Conference, 621, 13–26. https://doi.org/10.2991/assehr.k.211224.003
License
Copyright (c) 2021 Hidayat Abu Elhawa
This work is licensed under a Creative Commons Attribution 4.0 International License.
Copyright
The copyright of all articles published in the Proceedings of the AsiaCALL International Conference (aicp) remains with the Authors, i.e. Authors retain full ownership of their article. Permitted third-party reuse of the open access articles is defined by the applicable Creative Commons (CC) end-user license which is accepted by the Authors upon submission of their paper. All articles in the aicp are published under the CC BY-NC 4.0 license, meaning that end users can freely share an article (i.e. copy and redistribute the material in any medium or format) and adapt it (i.e. remix, transform and build upon the material) on the condition that proper attribution is given (i.e. appropriate credit, a link to the applicable license and an indication if any changes were made; all in such a way that does not suggest that the licensor endorses the user or the use) and the material is only used for non-commercial purposes.