Challenges and Opportunities of Implementing E-Learning in Teaching English at Tertiary Level from Teachers' Perspective
Keywords:
online learning; distant learning; Covid-19 pandemic; advantages; disadvantages
Abstract
Due to the Covid-19 pandemic, tremendous Vietnamese lecturers are assumed to have conducted virtual teaching in response to keep track of learning progress. This type of teaching seemingly brings several benefits to students and teachers. However, not all English instructors show their proficiency in applying e-Learning platforms. The present study was conducted with an aim to investigate the obstacles and chances given to both English lecturers when teaching online. A sample of 69 English lecturers from diverse universities in Ho Chi Minh City was selected with convenience and random sampling. The research instruments included online questionnaires and semi-structured interviews. After administering questionnaires to gain responses and screening data, six lecturers were interviewed to have further ideas explored. Having analysed the piloted data, the preliminary findings have revealed that the virtual platforms are beneficial to teachers in terms of interaction, flexibility, and lesson delivery. They also indicated some problems such as application interruptions and students' lack of enthusiasm. The study will help English lecturers and practitioners raise awareness of conducting e-Learning and offer them some solutions to maximize this type of teaching.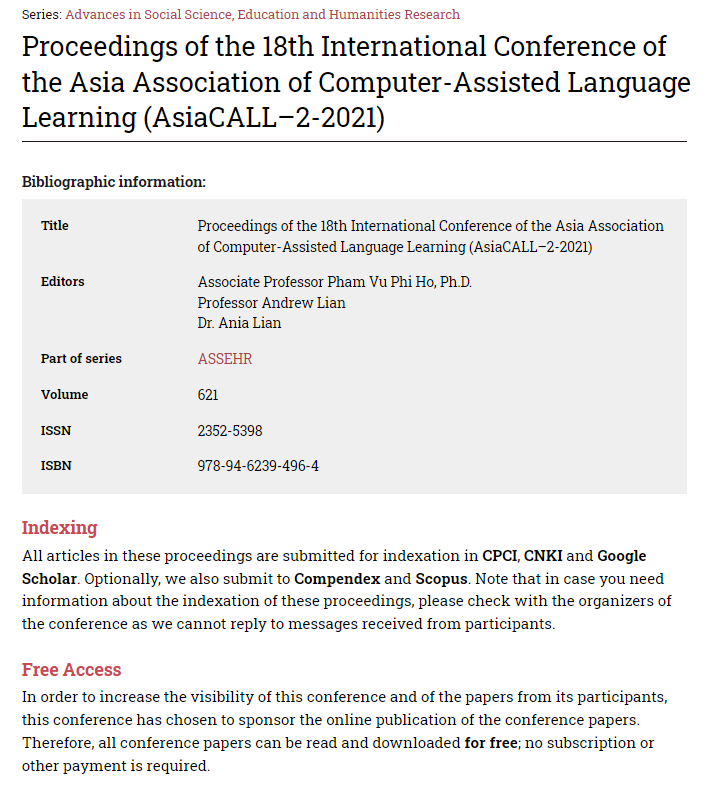 Downloads
How to Cite
Pham, T. N. (2021). Challenges and Opportunities of Implementing E-Learning in Teaching English at Tertiary Level from Teachers' Perspective. Proceedings of the AsiaCALL International Conference, 621, 168–181. https://doi.org/10.2991/assehr.k.211224.017
License
Copyright (c) 2022 Ngoan Pham Thi, Duc Nguyen Minh
This work is licensed under a Creative Commons Attribution 4.0 International License.
Copyright
The copyright of all articles published in the Proceedings of the AsiaCALL International Conference (aicp) remains with the Authors, i.e. Authors retain full ownership of their article. Permitted third-party reuse of the open access articles is defined by the applicable Creative Commons (CC) end-user license which is accepted by the Authors upon submission of their paper. All articles in the aicp are published under the CC BY-NC 4.0 license, meaning that end users can freely share an article (i.e. copy and redistribute the material in any medium or format) and adapt it (i.e. remix, transform and build upon the material) on the condition that proper attribution is given (i.e. appropriate credit, a link to the applicable license and an indication if any changes were made; all in such a way that does not suggest that the licensor endorses the user or the use) and the material is only used for non-commercial purposes.