Analyzing the Regular Grammar Mistakes of Chinese Students While Assessing Speaking During an IELTS Speaking Test
Keywords:
IELTS speaking test; Grammar mistakes; Analysis; Chinese University Students
Abstract
This research was done to determine the validity and dependability of the IELTS speaking test questions received by the four Chinese applicants, as well as the total number of grammatical errors committed by the four candidates and the frequency with which each error occurred. The research included a reasonably in-depth examination of the grammatical errors made by four Chinese IELTS test participants. Although the study did not address all components of speaking errors, more research might be undertaken on the remaining areas.
References
Barrett, Grant. Perfect English Grammar: The Indispensable Guide to Excellent Writing and Speaking. Zephyros Press, 2016.
BAŞÖZ, A. G. T., & AYDIN, S. (2011). An analysis on the grammatical mistakes made by advanced EFL writers. Humanities Sciences, 6(2), 296-306.
Brown, D.H and Abeywickrama, P. (2010) Language Assessment Principles and Classroom Practices, Pearson Longman, New York, Ch. 8
Common Grammar Mistakes in English, Studii si Cercetari Filologice: Seria Limbi Straine Aplicate. 2015;(14):44-50
Debata, P K. (2006) The Importance of Grammar in English Language Teaching - A Reassessment, Language In India, 19302940, Vol. 13, Issue 5
Eder, K. (1996), Authenticity in Language Assessment. Bachmann and Palmer
Hughes, A. (2003) Testing for Language Teachers, CUP. Cambridge https://doi.org/10.1017/9781009024723.010
Livingston, S.A. (2018), Test Reliability—Basic Concepts, Educational Testing Service, Princeton, New Jersey
Loma, S. (2004). Assessing Speaking. Cambridge: Cambridge University Press, xiv, 212 p.: ill. Language: English https://doi.org/10.1017/cbo9780511733017
Naber D. (2003) A rule‐based style and grammar checker. Master's Thesis , Diplomarbeit.Technische Fakultat Universitat Bielefeld,
Nava Ehsan, Heshaam Faili (2013) Grammatical and context‐sensitive error correction using a statistical machine translation framework, Volume43, Issue2 Pages 187-206 https://doi.org/10.1002/spe.2110
O'Sullivan, B. (2012), "Assessing speaking" in The Cambridge Guide to Second Language Assessment, eds. C. Coombe, P. Davidson, B. O'Sullivan & S. Stoynoff, Cambridge University Press, Cambridge, pp. 234-246-
Peters, P. (2016), The Cambridge dictionary of English grammar, Macquarie University, Sydney. Introduction Chapter https://doi.org/10.1017/cbo9781139050623
Scott-Branagan, Bronwen. (2017) "The History of Grammar." Owlcation.com, owlcation.com/humanities/The-History-of-Grammar.
Straus, Jane, et al(2014). The Blue Book of Grammar and Punctuation: An Easy-to-Use Guide with Clear Rules, Real-World Examples, and Reproducible Quizzes. 11th ed., Wiley.
Thompson, A. G. (1992). Teachers' beliefs and conceptions: A synthesis of the research.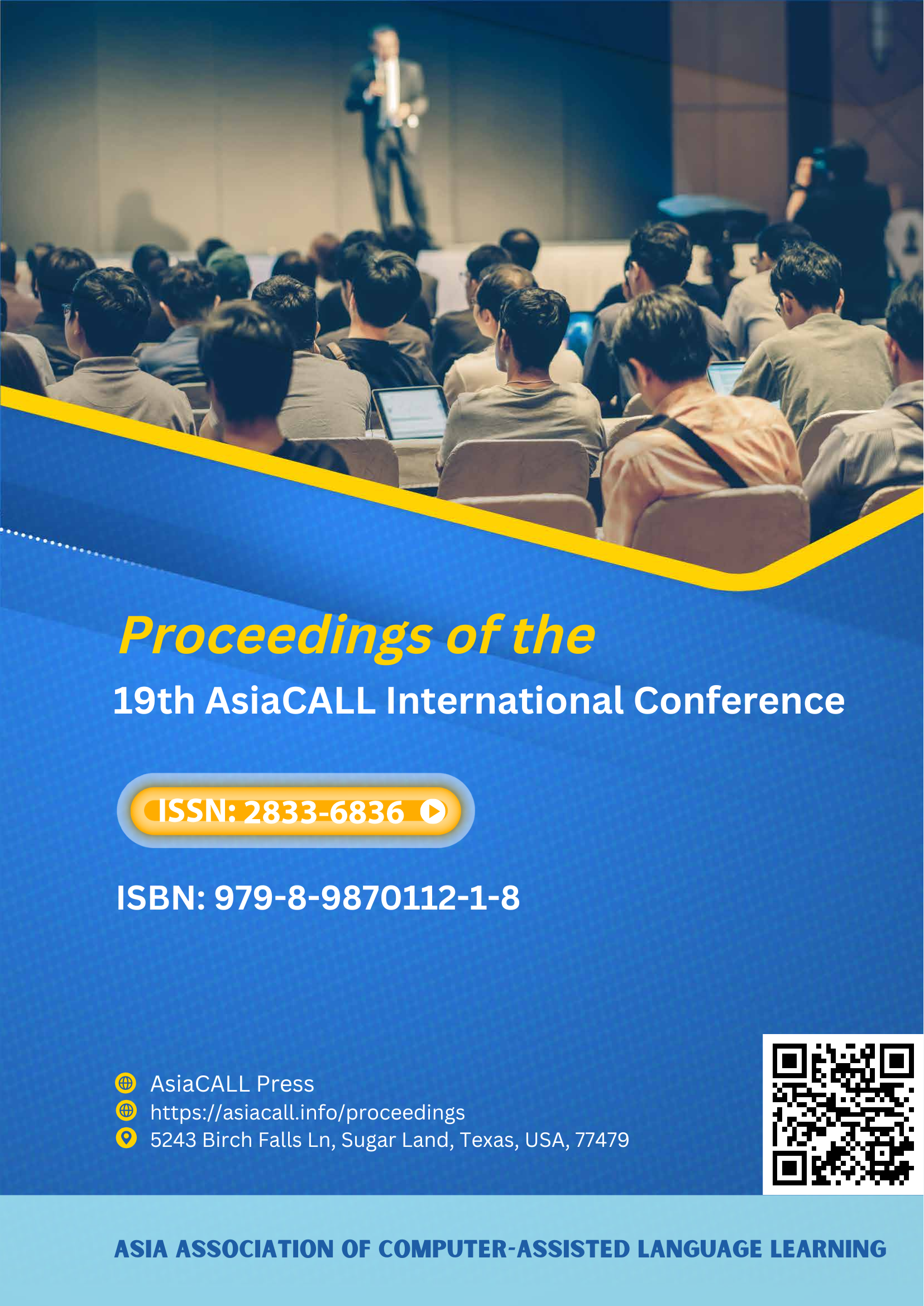 Downloads
How to Cite
Kong, X. (2022). Analyzing the Regular Grammar Mistakes of Chinese Students While Assessing Speaking During an IELTS Speaking Test. Proceedings of the AsiaCALL International Conference, 1, 1–29. https://doi.org/10.54855/paic.2211
License
Copyright (c) 2022 Xiangmin Kong
This work is licensed under a Creative Commons Attribution 4.0 International License.
Copyright
The copyright of all articles published in the Proceedings of the AsiaCALL International Conference (aicp) remains with the Authors, i.e. Authors retain full ownership of their article. Permitted third-party reuse of the open access articles is defined by the applicable Creative Commons (CC) end-user license which is accepted by the Authors upon submission of their paper. All articles in the aicp are published under the CC BY-NC 4.0 license, meaning that end users can freely share an article (i.e. copy and redistribute the material in any medium or format) and adapt it (i.e. remix, transform and build upon the material) on the condition that proper attribution is given (i.e. appropriate credit, a link to the applicable license and an indication if any changes were made; all in such a way that does not suggest that the licensor endorses the user or the use) and the material is only used for non-commercial purposes.