Conceptual Metaphor "Media is Fire"
Keywords:
conceptual metaphor; mapping; media; fire; teaching & learning
Abstract
This study aims to explore the metaphorical concept of "MEDIA AS FIRE" in both Vietnamese and English from the perspective of Cognitive Linguistics. This research utilizes the Metaphor Identification Procedure of the Pragglejaz Group (2007), in conjunction with descriptive approaches, statistical analysis, and classification strategies, to scrutinize the conceptual metaphor "Media is Fire" and its underlying metaphors. A total of 193 metaphorical expressions from media discourse are examined (113 in Vietnamese and 80 in English), revealing three primary cognitive models: "Media is Heat," " The ability to transmit the energy of Media is the ability to transmit energy of Fire," and "Media is Burning," along with the mapping mechanism from the source domain to the target domain. Furthermore, this research emphasizes the similarities and differences in the conceptualization of fire-related metaphors between the two languages. The findings of this study offer valuable insights for teaching, learning, and translating conceptual metaphors, thereby enhancing cross-cultural communication skills for Vietnamese English learners."
References
Kovecses, Z. (2010). Metaphor: A Practical Introduction (2nd ed.). Oxford University Press.
Lakoff, G., & Johnson, M. (1980). Metaphors we live by (2nd ed.). The University of Chicago Press.
Lakoff, G., & Johnson, M. (1987). Women, Fire and Dangerous Things: What Categories Reveal about the Mind. The University of Chicago Press.
Lê, L. T. (2017). Ẩn dụ Phạm trù Lửa trong tiếng Pháp và Tiếng Việt từ góc độ ngôn ngữ học tri nhận [Doctoral dissertation, Đại học Khoa học, Đại học Huế].
Nguyễn, V. D., & Đỗ, T. T. H. (2018). Truyền thông - Lí thuyết và kĩ năng cơ bản. Nxb Thông tin & Truyền thông, 12-14.
Phạm, T. C. P., & Trần, T. P. L. (2016). Đặc điểm trường Từ vựng - Ngữ nghĩa của "Nước" và "Lửa" trong tiếng Việt. Tạp chí Khoa học Đại học Văn Hiến, 5(1), 32-37
Pham, T. G. (2023). Conceptual metaphor "WOMEN ARE ANIMALS" in 20th century Vienamese literature. ICTE Conference Proceedings, 3, 26-40. ISSN: 2834-0000. ISBN: 979-8-9870112-2-5. DOI: https://doi.org/10.54855/ictep.2333
Phan, V. H., & Ho, T. Q. T. (2023), A cognitive Investigation into the Love-Life Relationship Expressed in Poetry, Metaphor and Symbol.38(2), 174-183. https://doi.org/10.1080/10926488.2022.2058398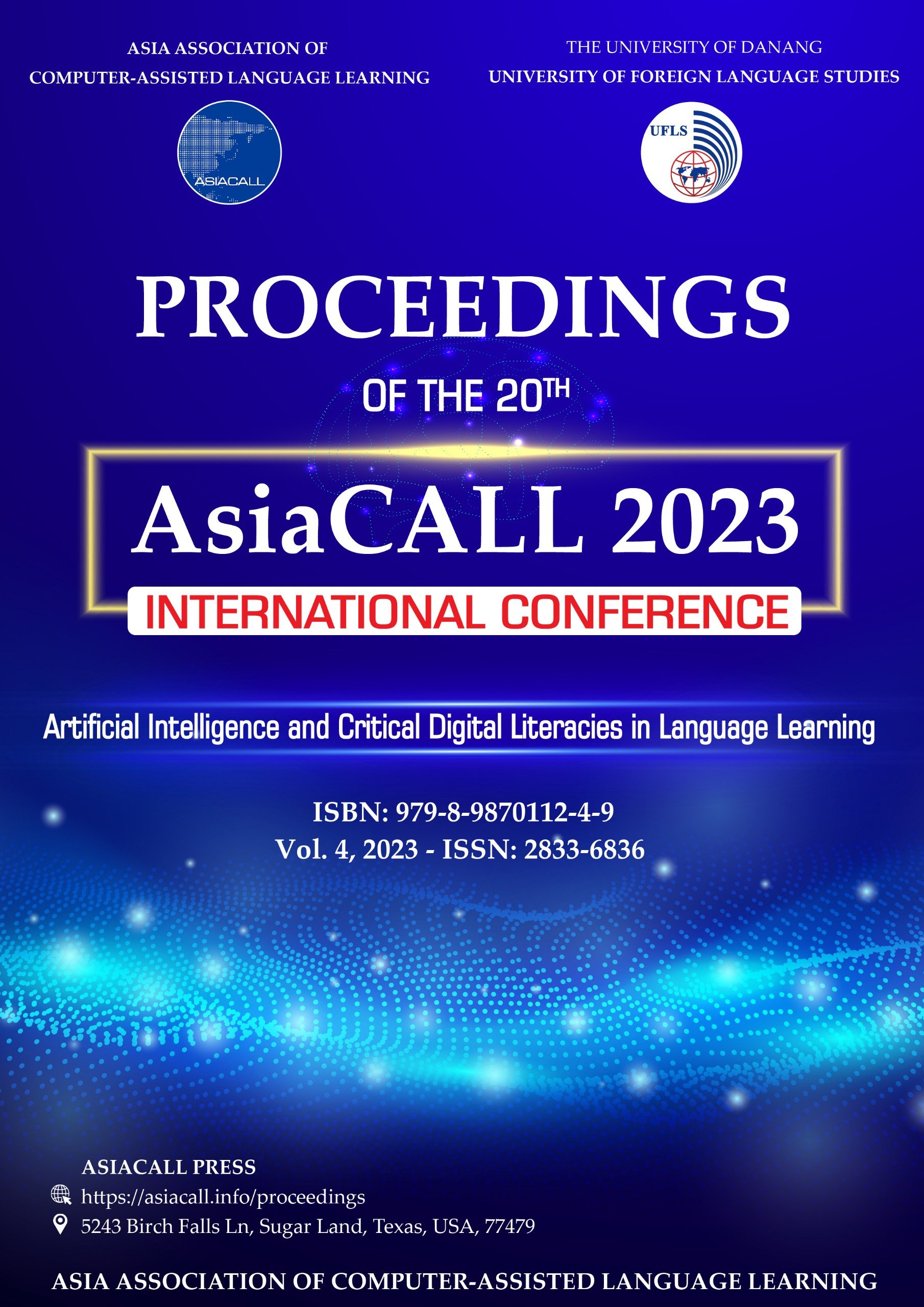 Downloads
How to Cite
Nguyen, L. D. A. (2023). Conceptual Metaphor "Media is Fire". Proceedings of the AsiaCALL International Conference, 4, 63–74. https://doi.org/10.54855/paic.2345
License
Copyright (c) 2023 Nguyen Luu Diep Anh
This work is licensed under a Creative Commons Attribution 4.0 International License.
Copyright
The copyright of all articles published in the Proceedings of the AsiaCALL International Conference (paic) remains with the Authors, i.e. Authors retain full ownership of their article. Permitted third-party reuse of the open access articles is defined by the applicable Creative Commons (CC) end-user license which is accepted by the Authors upon submission of their paper. All articles in the aicp are published under the CC BY-NC 4.0 license, meaning that end users can freely share an article (i.e. copy and redistribute the material in any medium or format) and adapt it (i.e. remix, transform and build upon the material) on the condition that proper attribution is given (i.e. appropriate credit, a link to the applicable license and an indication if any changes were made; all in such a way that does not suggest that the licensor endorses the user or the use) and the material is only used for non-commercial purposes.