Helping Language Learners Self-Review Learning Points and Gain Learning Expectation
Keywords:
Self-review; Learning expectation; Writing skill
Abstract
Revision after each lesson plays an essential role in enhancing learners' English level, although it is sometimes neglected by students at the tertiary education level. Acknowledging learners' difficulty in reviewing major learning points and their low expectations in classes of writing skills, I decided to apply a technique called "summary cards" to assist students in grasping the main points and logically connect their lessons for the whole picture of the subject. The act also aims at helping review for the final exam when students have to deal with a huge amount of knowledge in order to meet the requirements. Furthermore, a small act of the "summary card" was utilized to assist students in setting their learning goals and gaining their expectations and motivation, which was supposed to help improve both their level of writing and their attitudes towards learning writing skills.
After a 10-week course using "summary cards," a class of 36 freshmen at a university showed positive attitudes towards the new measure introduced. It is possible in the future that they apply this new measure in other courses which require them to memorize various learning points.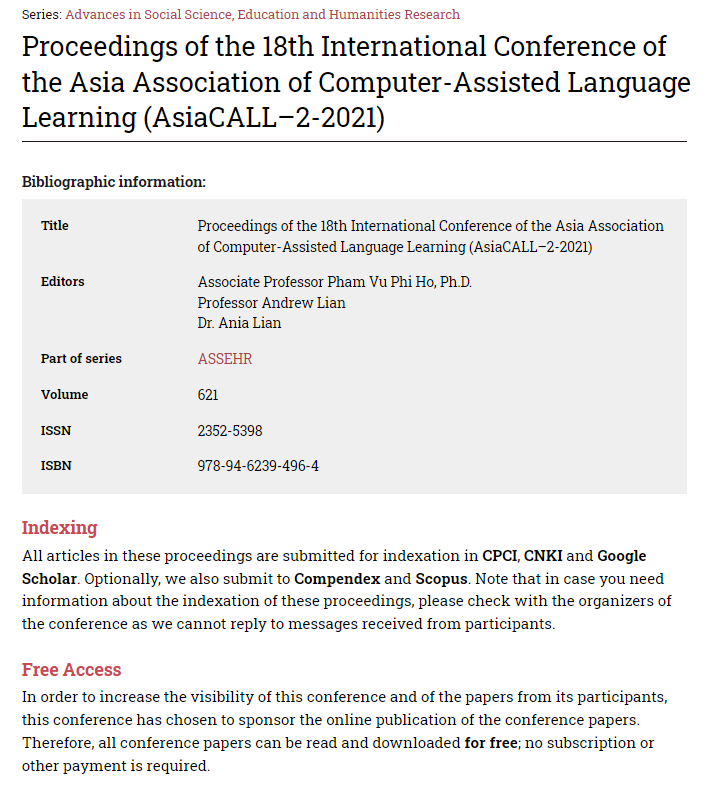 Downloads
How to Cite
Le, T. T. D. (2021). Helping Language Learners Self-Review Learning Points and Gain Learning Expectation. Proceedings of the AsiaCALL International Conference, 621, 57–64. https://doi.org/10.2991/assehr.k.211224.007
License
Copyright (c) 2022 Le Thi Trung Dinh
This work is licensed under a Creative Commons Attribution 4.0 International License.
Copyright
The copyright of all articles published in the Proceedings of the AsiaCALL International Conference (aicp) remains with the Authors, i.e. Authors retain full ownership of their article. Permitted third-party reuse of the open access articles is defined by the applicable Creative Commons (CC) end-user license which is accepted by the Authors upon submission of their paper. All articles in the aicp are published under the CC BY-NC 4.0 license, meaning that end users can freely share an article (i.e. copy and redistribute the material in any medium or format) and adapt it (i.e. remix, transform and build upon the material) on the condition that proper attribution is given (i.e. appropriate credit, a link to the applicable license and an indication if any changes were made; all in such a way that does not suggest that the licensor endorses the user or the use) and the material is only used for non-commercial purposes.